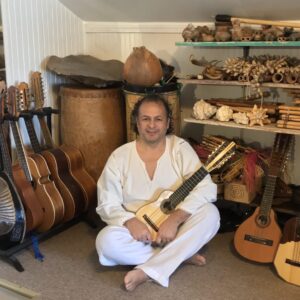 Gerardo is a composer, producer and multi-instrumentalist. Born in Mexico City. He grew up surrounded by music, dance and culture. While living in Mexico, Gerardo studied classical guitar at the Escuela Superior de Música in Mexico City. He also studied music theory at the Portland Community College in Oregon, and later he studied Music Therapy for three years at Marylhurst University, OR., Before the school closed its doors for good. Gerardo was awarded for best formatted composition. Gerardo is the musical director of Grupo Condor and Nuestro Canto, and has pursued his interest in traditional Mexican music, Latin American Folk Music and Pre-Colombian music. Gerardo has dedicated most of his music career to music education and has continuously served the northwest community through Young Audiences of Oregon and SW Washington, Multnomah County Library system and other cultural organizations. Gerardo has performed with folk ensembles in Mexico, Canada, New England, and the Pacific Northwest, he has also toured with choir and world music ensembles throughout the USA and Europe. He has composed music and designed sound for Ballet companies, documentaries, short films, commercials, theater companies, and cultural organizations. organizations. Besides performing, teaching, and composing Gerardo also spend some of his free time playing therapeutic music for Elder Facilities, Retirement Center, and Intensive care facilities. Gerardo had the honor to be part of the Circus Project company, as Musical Director. As a parallel activity to performance, teaching and studying, Gerardo is an instrument artisan; he makes custom pan flutes, rain-sticks, water drums, turtle boxes and bombos (bass drum). Gerardo plays his own instrumental compositions, where he blends Latin America folk rhythms, Jazz and contemporary rhythms from the Americas, he also combines different instruments from Latin America, such as string instruments, wind instruments and percussion instruments, creating a unique musical sound.
Patricia was born in Peru where she studied Ballet at La Escuela Nacional de Ballet and acting at La Asociacion de Artistas Aficionados and El Club de Teatro de Lima.  She followed her mom's steps in the performing arts at an early age, dancing and acting on television in Lima while she was still in high school. When she moved to the States in the late 80s, she joined The Peninsula Ballet Theatre in the San Francisco Bay Area as a company member. Here in Portland she started dancing Ballroom in 2008 and has competed Pro-Am in Portland, Seattle and Los Angeles. She has performed in the musicals Grand Hotel and Young Frankenstein with Lakewood Theatre Company.  Other credits include 6 Day of the Dead productions, Watsonville A Place Not Here, La Segua and Wolf at the Door at Milagro Theatre, La Ruta with Artist Repertory Theatre and Last Stop on Market St. the Musical with Oregon Children's Theatre. Patricia has worked in short films, TV commercials and the feature film Mother of Color soon to Premiere in Portland. Dance is still her passion so she is currently studying Flamenco at Espacio Flamenco. Patricia is also a visual Artist and works as a freelance artist specializing in animal portraits. She devotes any free time to travel as she believes travel is the best teacher.
Ernesto is new to Portland. Originally from Costa Rica, he started singing lessons at the age of 12, where he had the opportunity to tour around the country with the Grammy award-winning group Editus performing in major venues like the National Theater of Costa Rica, Melico Salazar Theater, and many other venues. He has also performed in opera and zarzuelas with the National Lyrical Company of Costa Rica and sang with the National Symphonic Orquestra of Costa Rica. He has also assisted in the theatrical production of the International Festival of Arts and worked as a manager for a local theater in that country. Here in Portland, he worked as a production coordinator and stage manager for Milagro and was also part of the Portland Center Stage administration team.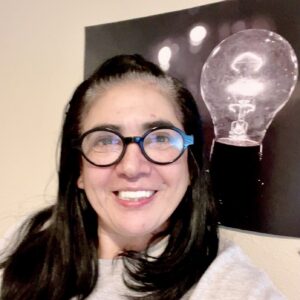 Blanca is a Lighting Designer, Set Designer and Writer. Blanca has a degree in Architectures from Del Valle de Mexico University, was a Banff Center Intern ( Canada), and worked with the National Institute of Fine Arts for over two decades ( Mexico City). Notables shows include : Faust (Brooklyn Academy of Music, N.Y ) and Hamlet ( Cadiz Spain ). Other credits include:  Bicycle Country (Aurora Theatre, Lawrenceville, G.A.)  Octorroon and A Dolls House Part 2, La Ruta (Artist Repertory Theatre), In The Next Room (Portland State University), Men on Boats (Willamette University, Salem ) and Jump ( Confrontation Theatre) Mother Courage and Ruin (Imago Theatre with Profile Theatre), Measure of an Innocent (Bag & Baggage), A Birth New Boise (Willamette University), A Christmas Carol (Portland Playhouse), In the name of forgotten Women ( Coho theatre), Neat (Passinart at IFCC), Bella: An American Tall Tale (Portland Playhouse), The Hombres (Artist Repertory Theatre).