PROGRAM UPDATE
The growth of our Apprentice Training Program over the last 12 years has welcomed 94 talented artists into the Portland theatre community. Many of these artists still live in Portland today and work on stage, backstage, in costume shops, scene shops, lobbies, and the offices of Portland theatre companies.
Portland Playhouse would not be where it is today without each of them. We thank them deeply for their time and energy spent helping us grow. However, growth and success are often followed by the need to change. Now, with the added call to action from We See You White American Theatre and Lift the Curtain to end unpaid internships, the time has come to push pause. This has led us to the decision to suspend our Apprentice Training Program when our current season ends in June 2022.

This decision has been made to create the time and space needed to rebuild our Apprentice program into an equitable, sustainable, paid model. We believe this decision honors the legacy of all past apprentices and gives future apprentices the opportunity to take creative risks and transition to life in the arts, whilst earning a living wage.
Finally, we would like to acknowledge the depth of harm caused by unpaid internships and take responsibility for our part in perpetrating that harm in the past. We believe in being a force for good in our community and know that change for good starts at home. We are engaging in the difficult task of securing long-term funding for future Apprentice Companies at the Playhouse, and look forward to being able to welcome them under a new, paid apprenticeship model.
For further information, or enquiries regarding the suspension of our Apprentice Program, or education programming, please contact Brian Weaver (brian@portlandplayhouse.org) or Ramona Lisa Alexander (ramona@portlandplayhouse.org).
Portland Playhouse Apprentice Company is a customizable professional training program that provides emerging artists with opportunities both on and off the stage for a full theatre season.
QUICK FACTS:
August 25, 2021 – June 11, 2022
8-10 Apprentices
Advanced conservatory-style classes and individualized mentorship
Integration into the Portland theatre community
Free application/enrollment 
Optional housing with a host family upon request
$100 monthly transportation reimbursement
Access to Additional Volunteer Opportunities:
Theatre administration training and experience 
Mainstage show auditions and understudy roles
Production crew responsibilities
Assistant directing and design positions
Assisting in our education programs
EMC Program and production credit eligibility
Season 12 Apprentice Company and staff members on the steps of the Playhouse.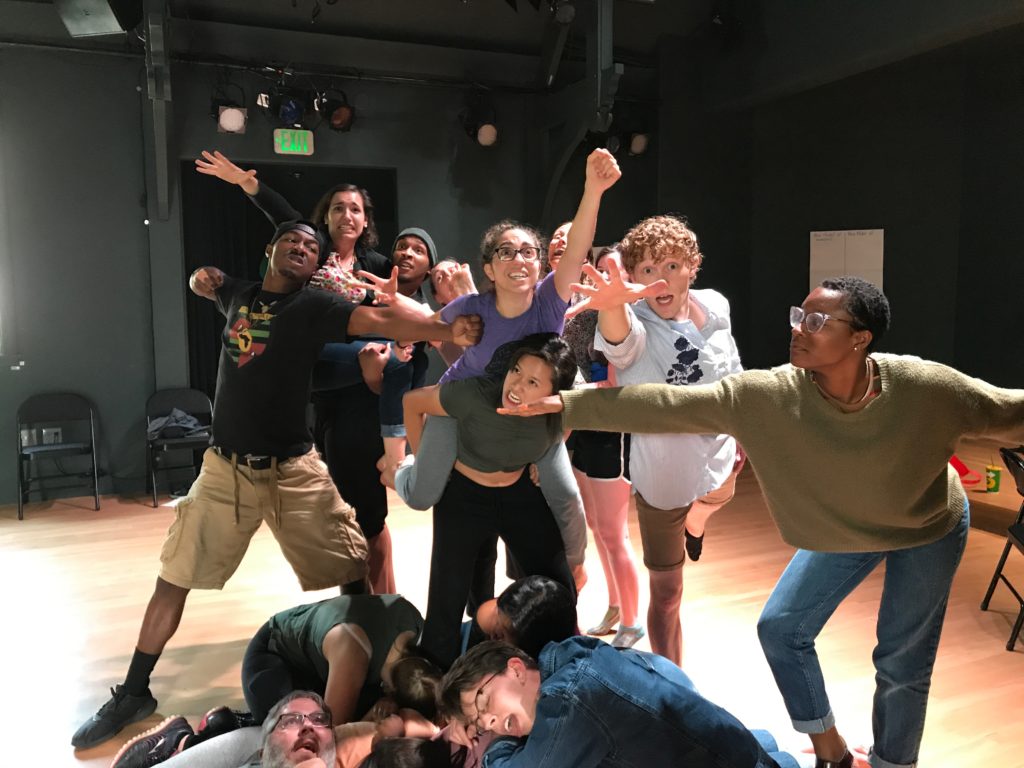 Apprentices benefit from the small-group, select nature of the program, and work closely with our staff members, professional artists, and fellow ensemble members to customize their ten months of training.  
Our apprentices choose a primary creative focus for their ten months with us. These focuses include: acting, directing, design, or stage management. Acting and directing apprentices receive conservatory-style training in specialized classes cultivated and led by professional artists. Apprentices focused in design and stage management engage in a personalized mentorship with various levels of involvement in each of our season productions. 
Apprentices may volunteer in our offices assisting and learning from our core company members and staff at Portland Playhouse in various arts administration fields. These fields may include (but are not limited to) marketing, audience services, development, artistic administration, production management, and education programming. 
Apprentices also have optional opportunities to engage with professional artists and the larger Portland community: they may choose to share front of house/crew responsibilities, audition for our season productions, submit for production/creative team roles, and/or assistant direct in education programs such as our Fall Festival of Shakespeare or Social Justice Theatre Project. 
In the last part of the season, the Apprentice Company creates and produces their own solo show production under the guidance of our teaching artists.
We often work with our Apprentices to program classes per their requests and strive to build new and lasting relationships with professional artists in and beyond Portland. As a result, this list is not exhaustive.
Corinne Gaucher, Creative Resilience and Solo Shows
Thyra Hartshorn, Technical Theatre
Nikki Weaver, Yoga and Solo Shows
Brian Weaver, Acting and Shakespeare
La'Tevin Alexander, Acting and Film
Charles Grant, Choreography
Daniel Meeker, Scenic and Lighting Design
Gretchen Corbett, Acting and Scene Study
Oluyinka Akinjiola, Choreography and Movement
Jason Rouse, Sketch Comedy, Improv, and Stand-up
Chris Gonzalez, Devising Theatre
Cycerli Ash, Acting and Film
Stephen Robinson, Writing
Karl Hanover, Dialects and Monologues
Cristi Miles, Viewpoints and Suzuki
Jessica Wallenfels, Movement and Devising Theatre
Samantha Van Der Merwe, Movement and Devising Theatre
Chris Harder, Meisner
Val Landrum, Viewpoints and Character Work
Orion Bradshaw, Hip-hop and Choreography
Alia Farah, Singing and Vocal Technique
APPLICATIONS FOR THE SEASON 14 APPRENTICE PROGRAM ARE NOW CLOSED.
As part of the application process for all apprentice positions, we ask that you record a 10min video of yourself so we can get to know you. (We will accommodate accessibility needs upon request). 
Please upload your video to YouTube, Vimeo, or a similar sharing platform and be ready to share the link in your application. Videos should include the following components:
For an Acting Apprenticeship:
1) Two contrasting monologues that you feel best represent you as an artist
2) If you sing or play music, 16 bars of a song
3) Tell us, how do you describe/define yourself? You're… (a painter, a cat dad, a sister, an actor, tough, a hiker, sensitive…) 
4) Tell us a story of a profound moment in your life.
For a Directing, Stage Management, Design/Production Apprenticeship, or Other:
1) Discuss an example of the work you're most proud to have been a part of and include: 
How were you involved?
Why was it meaningful to you?
How do you hope to carry that experience into your apprenticeship?
2) Tell us, how do you describe/define yourself? You're… (a painter, a cat dad, a sister, an actor, tough, a hiker, sensitive…) 
3) Tell us a story of a profound moment in your life.