EMERGeNT ACTIVIST PROJECT
Calling all Teenage changemakers, theatre and visual artists, video editors, and revolutionaries:
How do we show up for our communities? How does art inspire change and revolution? 
Do you love the theatre, and want to be a social justice change-maker? If you answered yes, then our Emergent Activist Project (EAP) is for you.
As an EAP participant you will use the power of the performing arts to explore topics of social justice, creating a space for dialogue to help us work towards greater equity and social justice in the spaces we inhabit everyday – our homes, our schools, our communities, and our city.
You will work in groups to create a 60-minute performance on your chosen topic, and then perform your piece on the Portland Playhouse stage, in front of an invited audience. You will work as a team to select and define the topic you wish to explore, and how it connects to your community.
Participants will meet after school at the Playhouse on Monday, Wednesday & Friday from March 9th to May 25th, 2022. The first meeting will be held on Monday, March 9th from 4:00-6:00pm.
Meetings
4:00pm – 6:00pm MWF March 9th – 20th.
Spring Break
March 21st – 25th
Rehearsals
4:00pm – 6:00pm MWF March 28th – May 20th.
(There will be 2 – 4 site visits to community partners during this time)
Tech Rehearsal & Dress Rehearsal
6:00-9:00pm Sunday, May 22nd.
Monday, May 23rd – SHOW 1 (6:00pm call time for students, 7:00pm performance)
Tuesday, May 24th – SHOW 2 (6:00pm call time for students, 7:00pm performance)
Wrap Party
– 4:00-7:00pm Wednesday, May 25th.
Interested participants should register online here by by Monday, March 7th, 2022.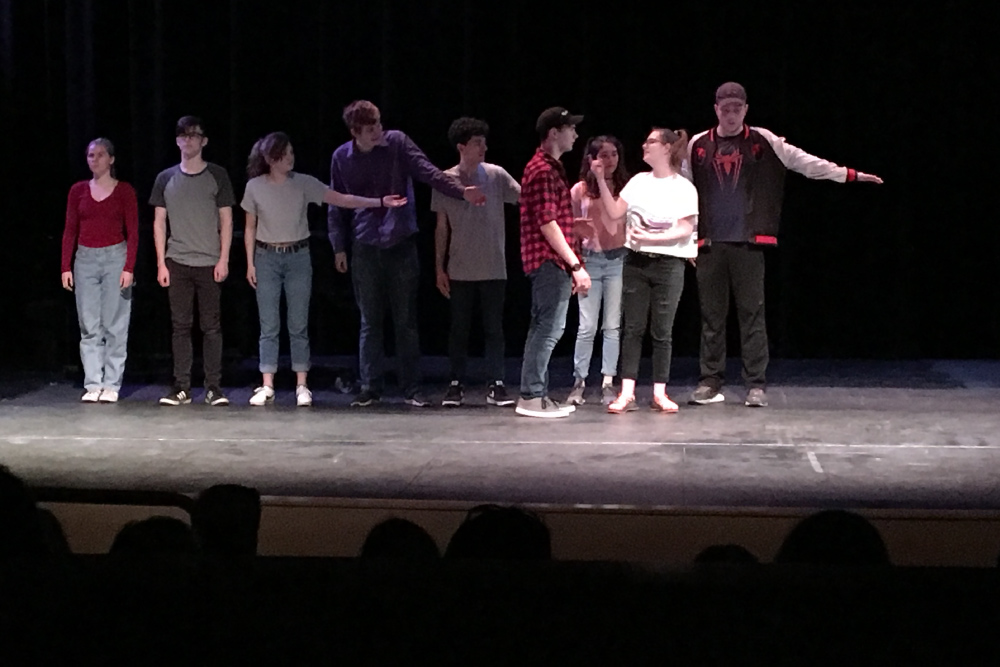 How do we talk about social justice? How do we define it? How do we take ACTION? The program allows students to do all of these things through the power of investigation, imagination, and research.
Students will create devised work that asks the audience to take their own action as a response to what they see.  Led by dedicated teaching artists, the program seeks to create a visceral response to understanding more about a certain topic.
INTERESTED IN GETTING YOUR SCHOOL INVOLVED?
We offer a Fall Festival of Shakespeare for middle school and high school students, and Spring Social Justice Theatre Project for high school students.  Contact us today for more information.