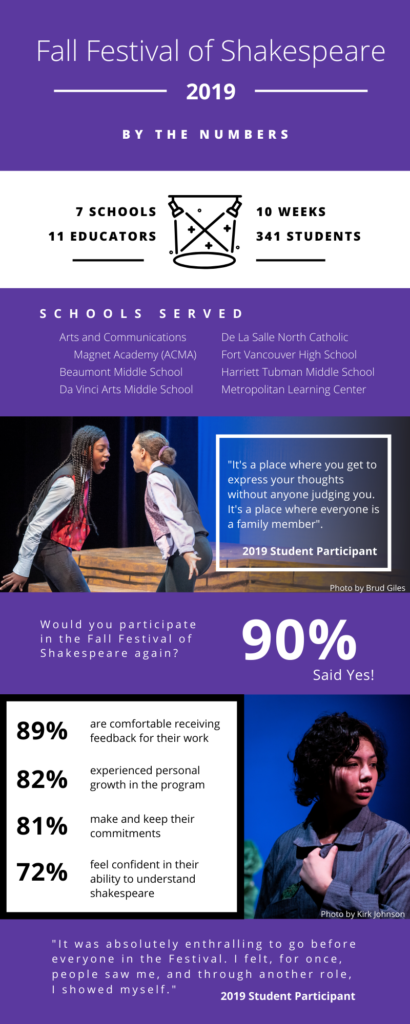 Political writer and Portland Playhouse board member Stephen Robinson, reflects on the 2019 Fall Festival of Shakespeare
How long have you been attending the Fall Festival of Shakespeare?
I attended my first Fall Festival of Shakespeare in 2015. I'd recently joined the Playhouse's Education Committee and was excited to experience the great work the Playhouse team did with students throughout the community.
Why do you like the Fall Festival of Shakespeare?
Shakespeare is a personal inspiration, as both a writer and a theatergoer, and I love to see young people connecting to his timeless stories. It's especially inspiring to see students from different schools and backgrounds working together as a team, not just on stage but in the audience. Everyone's fully committed to and engaged with the performance. They thrill to the epic battles, swoon over the romantic moments, and laugh at the ribald comedy.
It's also not just the students but their parents, as well, who get to experience the thrill of Shakespeare outside a classroom or the pages of a book.
What stood out to you at this year's Fall Festival?
This year, I saw adults boo along with the kids whenever Petruchio treated Kate horribly in Taming of the Shrew. It's how any modern audience would react and the story still holds up even if the audience's sympathies have shifted. Petruchio can be a comic villain and Kate a misunderstood hero. Shakespeare endures because his work is always open to evolution and different interpretation.
What keeps you coming back to the Fall Festival year after year?
Nikki Weaver, co-founder of Portland Playhouse and Director of Education, once commented at a previous Festival that theatre was about actors making "big choices," and you can see the results of these choices in their performance. It's always a delight to see students embracing this ethos and pleasantly surprising, even someone who has seen multiple productions of Shakespeare's work. This is why I look forward to the Festival each year. 
Thank you to the sponsors of the Fall Festival of Shakespeare. If you would like to sponsor the Festival, please contact our Development Director Elena Hein at elena@portlandplayhouse.org .
Applied Materials Foundation
The Autzen Foundation
BP Lester & Regina John Foundation
The CommuniCare group at Roosevelt High School
Firstenburg Foundation
The Jackson Foundation
Oregon Arts Commission
PGE Foundation
Robert D. & Marcia H. Randall Charitable Trust
Anna & Dwight Schwab, Sr. Charitable Foundation
Rose E. Tucker Charitable Trust