Jessica Wallenfels (She/Her)
Playwright, Director & Choreographer
Jessica creates new work that is music and movement-driven with her company, Many Hats Collaboration. Recent works include The November Project, Matter, and The Undertaking. Wallenfels also works as a freelance director/choreographer. At Portland Playhouse, she has directed The Wolves and co-directed Scarlet. Her work has been seen at the Oregon Shakespeare Festival, Seattle Repertory Theatre, Portland Center Stage, Artists Repertory Theatre, Broadway Rose, Oregon Children's Theater and other venues. Wallenfels currently teaches at Portland State University and Mt. Hood Community College. She holds a BFA from California Institute of the Arts and an MFA in directing from the University of Portland.
Charles Grant (He/Him)
Director & Choreographer
Charles is a multi-hyphenate artist who is completely honored and excited to serve as a director for the world premiere of Great Wide Open alongside Jessica Wallenfels. He's worked with various theatre/arts companies over the years including Portland Center Stage, Many Hats Collaboration, Third Rail, Fuse Theatre Ensemble, Kryptic Films, Confrontation Theatre and of course Portland Playhouse, where he is currently in the role of Producing Director. Some directing highlights include: Chicken and Biscuits, and Barbecue at Portland Playhouse (AD) Loch Lomond at Broadway Rose (AD), and the staged reading of Apologies to Lorraine Hansberry (You Too, August Wilson) as a part of Fuse Theatre Ensemble's OUTwright Theatre Festival (co-dir.). He is grateful to be a part of manifesting this story with an absolutely brilliant and generous team. May we continue to share our stories on our terms.
More at www.thecharlesgrant.com
Eric Nordin
Original Music & Sound Design
Eric is a multiple award-winning playwright, composer, music director and pianist in Portland, Oregon. This is Eric's seventh production with Portland Playhouse and the "who-knows-how-many-eth" show in artistic collaboration with the brilliant Jessica Wallenfels (to whom he is happily married). Between projects, Eric's dachshund Oscar continues to lavish him with so many kisses and cuddles that it's very nearly too much to take.
www.EricNordin.com
Katie Sawicki (She/They)
Original Music
Katie started singing before she could talk. She had a hopeless love of all things musicals and choir before she hit the open mic scene with her guitar in New York City. This soon grew into a folk-singing touring career that led her to coffee shops and venues across the country. Her move to Portland, Oregon in 2008 marked a new beginning, founding the orchestral rock band, The Cabin Project, which has been going strong ever since.  The Cabin Project collaborations have solidified her love of the electric guitar, reverb pedals, and songwriting. She hops back on the musical bandwagon every chance she gets.
@thecabinproject www.thecabinproject.com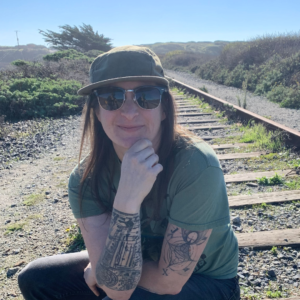 Zanny Geffel (They/Them)
Original Music
Zanny has a B.A. in classical percussion from Biola University. Along with their band, The Cabin Project, they have performed and recorded in various other bands, musical projects and theater companies throughout Portland. Musical theater is a passion for them and in 2018 Zanny received the Portland Area Music Theater Award for Outstanding Pit Musician. Some favorite shows they have performed in have been West Side Story, Rent, and Hedwig and the Angry Inch.
Kaye Blankenship (They/Them)
Scenic & Lighting Design
Kaye is a scenic and lighting designer, visual artist, and arts educator. They have designed around Portland for the past 10 years for theatre companies such as Profile Theatre, Oregon Children's Theatre, Third Rail, and Portland Playhouse. This is the fourth time they have had the pleasure to work with Jessica and greatly enjoyed designing for The Snowstorm (CoHo – 2015), The Undertaking (Many Hats – 2019), and The Wolves (Portland Playhouse – 2019).
Check out Kaye's creative work at www.kayeblankenship.com, and keep an eye out for their MFA thesis art installation at PNCA in July 2023.
Maia Denzler (She/Her)
Costume Designer
Maia is a costume, theater, and textile artist based in the Portland Metro area. Recently, her costume designs were on stage at Portland State University in the opera Good Country, and she will be returning to PSU to design the spring production A Dream Play. Previously at Portland Playhouse, Maia has worked on A Christmas Carol (Assistant Costumer) and Chicken and Biscuits (Props, Assistant Costumer), as well as being a member of the Season 14 Apprentice Company. Her textile art will be on display at Patricia Reser Center for The Arts May 17-July 8 in the gallery as part of The Born Project (www.thebornproject.org).
For more information, visit her website at www.maiadenzler.com.
Bei Yi Teo
Properties & Scenic Artist
Bei is overjoyed to be back in the Portland Playhouse. She is a scenic artist and propmaker and some of her favorite projects include, Bella an American Tall Tale (Portland Playhouse), Don't Hug Me and Loch Lomond at Broadway Rose Theater Company, The Found Dog Ribbon Dance at CoHo Theater and Amazon Prime's Somebody I Used to Know. She thanks her husband for being the greatest support in her pursuit of art.
David Levine (He/Him)
Stage Manager
David is a lifelong Portlander and former teacher who comes from a long line of educators-turned-actors, dating back to 1950's summer camp in the Catskills. Recent stage manager credits include: In the Name of Forgotten Women at CoHo; Evolve with The Red Door Project; and Thurgood, and What I Learned in Paris at Portland Playhouse.
Vanessa Elsner (She/Her)
Assistant Stage Manager
Vanessa is making her Portland Playhouse debut. Companies she has previously stage managed, dressed or performed for include Portland Center Stage, Broadway Rose Theatre, Pixie Dust Productions, Post5, Live on Stage, and Trip the Dark Dance Company.
Stephen Robinson
Dramaturg
Stephen is a writer and social kibbitzer based in Portland, Oregon. He writes political commentary for Wonkette and TV criticism for Primetimer. He also writes make believe for the stage. Once, he wrote a novel called Mahogany Slade, which you should read or at least buy. He's also on the board of the Portland Playhouse. His son describes him as a "Play Typer Guy," which is the name of his podcast and YouTube Channel.
Find him on Instagram and Twitter at @ser1897
Thanks to Kate and Ellis.
Keela Johnson MS (She/Her)
Cultural Competency and Creative Consultant
Keela works as a Cultural Competency Consultant for Portland Playhouse. She began her work in this role during the 21/22 production season and is continuing in her role for the 22/23 season. Keela also works as a private consultant for non-profit and other organizations, as well as an educator at Portland State University. She specializes in institutional, structural, and inter/intrapersonal oppressive ideologies, frameworks, policies, and narratives with an emphasis on healing spaces for all.  Her work over the past 7 years with Portland Playhouse has consisted of providing workshops and other facilitations for staff, critical dialogic spaces for the greater community and critical dialogic spaces for affinity groups. She is moving into her second production year in this role and is so happy, honored and humbled to be on this wonderful journey.
Anthony Michael Shepard (He/Him)
Kenny
Anthony is honored to return to Portland Playhouse. Anthony is a St. Louis native, former Playhouse Apprentice, Black Theatre United Rise Mentee, and a graduate of the Dobbins Conservatory. Anthony has appeared in local productions such as American Fast (Artists Repertory Theater) Fucking A (Shaking The Tree), Bella: An American Tall Tale (Portland Playhouse), Titus Andronicus (Portland Playhouse), a workshop of Great Wide Open (Portland Playhouse and Many Hats Collaboration). This production has been a joy and hopefully one of many that you will see him in. As always, Anthony gives honor, love, and gratitude to his friends, family, and mentors; who continue to inspire and elevate his artistry to new heights.  Anthony is the co-host of Genesis: A Subsequent Elevation, found wherever you listen to podcasts. Follow him on Insta: anthony.shepard and TikTok: blackboysong to stay up to date with his shenanigans.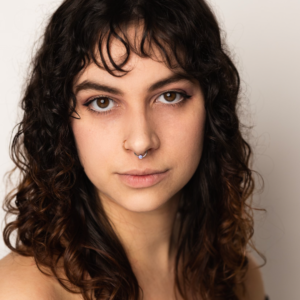 Leiana Rousseau Petlewski
Junie
This is Leiana's first production with Portland Playhouse, which they are honored to be a part of. They hold BA's in Applied Theatre and Dance from Pacific University and a certification from the Portland Experimental Theatre Ensemble's Institute for Contemporary Performance (ICP). Previous credits include Chick Fight (Understudy; Shaking the Tree), Between the Two of Us (ICP), Revolt. She Said. Revolt Again. (Pacific University), and Orlando (Orlando; Pacific University). You can see them next in Salt and Sage's productions of Macbeth and Titus Andronicus. It is Leiana's hope to share with the audience the absolute joy and love they have for being human.
Lane Barbour (They/Them)
K & Other Characters
Lane is a local theatre maker, educator, and artist. They are a founding ensemble member of Witch Hunt Theatre, and past credits include Premeditated, Holiday Dinner, and Carmilla. This is their fourth production with Portland Playhouse, and were previously seen in The Wolves, Women of Will, and A Christmas Carol. They are a former Portland Playhouse Apprentice, and are signed by ZT Agency. They are also a Third Rail Company Member. They dedicate this performance to their fiancee, Ash, and their angsty, hurt, teenage self.
Beth Thompson (She/They)
EN & Other Characters
Delighted to call Portland home, Beth has collaborated with many local companies as an actor, deviser, teacher and producer. Producing under the moniker Dancing Brain Productions and as Managing Director of Many Hats Collaboration, Beth focuses on theatre that embraces movement storytelling as a primary narrative tool. As an actor, favorite roles include Woman in Tender Napalm with Dancing Brain Productions, Orlando in Orlando at Profile Theatre, Miss Julie in Miss Julie and Catherine in Suddenly Last Summer at Shaking the Tree, Bear in The Snowstorm and Daughter in The Undertaking with Many Hats Collaboration.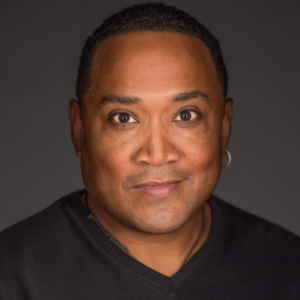 Bobby Bermea (He/Him)
NY & Other Characters
Bobby is the co-artistic director of The Beirut Wedding World Theatre Project, and a longtime member of Sojourn Theatre and Actors Equity Association. Bermea has appeared in theaters from La Mama in New York, NY, Kansas City Rep, Capitol City Playhouse in Austin, TX, Centerstage in Baltimore, MD to the Hawaii Theatre in Honolulu, HI. As a resident of Portland, he's performed at Portland Center Stage, Artists Repertory Theatre, Profile Theatre, Milagro, Sojourn Theatre, Cygnet Productions, BoomArts, the Jewish Theatre Collaborative, Tygre's Heart, and Life in Arts Productions, and this is his fifth turn at Portland Playhouse. Bermea is also a director, playwright and regular contributor to Oregon ArtsWatch.
Twitter: @beirutwedding
Instagram: beirutwedding
Facebook: Bobby Bermea
Orlando Reyes Cabrera (He/They)
Understudy, Kenny
Orlando holds a Bachelor of Fine Arts in Acting from Southern Oregon University, and was a member of the Season 14 Apprentice Company at the Portland Playhouse.  You may have seen Mr. Reyes Cabrera at Portland Playhouse last season in Titus Andronicus as Martius, and his solo show Very Kind to Meet You, and most recently at 21ten's production of Trade as Younger Man. Orlando is excited to return to where it all started in Portland. In his spare time he's taking care of his beautiful dog Malia, taking walks through parks, and singing his heart out. He would like to give gracias to his mama y papa, his hermanos y hermanita, and his friends for their continued love and support. Que disfruten el show!
Claire Aldridge
Understudy, Junie
Claire Aldridge (they/she) is an interdisciplinary artist based in Portland Or. You will find her on any given midnight at the crossroads of dance, theater, poetry, and sculpture. Committed to collaboratively driven works that push the boundaries of form she has been spending the year alongside the Portland Experimental Theater Ensemble in this years ICP cohort, and holds certificates from Dell Arte International School of Physical Theater and The American Conservatory Theater. You may have just seen her as the chalk-wielding grape in Shaking The Tree's, Forbidden Fruit. Other credits around town include Shaking The Tree (Short Flix, Caucasian Chalk Circle, Head Hands Feet, Orpheus and Eurydice), Oregon Children's Theater (Charlotte's Web), Enso Theater Ensemble (Romeo and Juliet), and is the creator of Anatomy of A Rabbit,  an experimental dance film and art instillation in partnership with the Sexual Assault Resource Center. Big thank you to Portland Playhouse!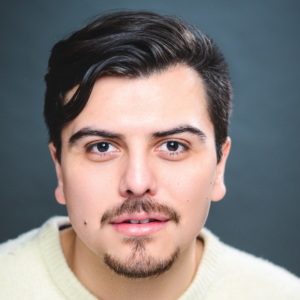 Alec Cameron Lugo (They/He)
Understudy, K, EN, NY
Alec is a Queer, mixed-race, Latiné performer and multi-hyphenate artist excited to be making their Portland Playhouse debut in Great Wide Open! A 2016 graduate of Pacific University, select theatrical credits include productions with Portland Center Stage (tick, tick … BOOM!), Profile Theatre (The Elaborate Entrance of Chad Deity), Oregon Children's Theatre (Last Stop on Market Street), and Fuse Theatre Ensemble (Our Town, Cabaret), the latter of which they serve as a resident ensemble member. Radio and television credits include work with All Classical Portland, Oregon Public Broadcasting's "All Science. No Fiction.", and IFC's Emmy-nominated Documentary Now! episode "Original Cast Recording: Co-op." Alec serves as the Marketing & Event Specialist with the Portland Gay Men's Chorus, and his work in photography, videography, and graphic design has been featured locally and nationally. As always, thank you to Victor and Mary, & Riley.
Let's connect! @gameboy_of_color • alecclugo.com