Directed by Lou Bellamy
Starring Lester Purry
Presented in cooperation with Penumbra Theatre Company
January 21 – February 27, 2022
BIPOC AFFINITY PERFORMANCES
Wed Jan 26th, 2022 (preview)
Sat Feb 5th, 2022
Sat Feb 19th, 2022
All start at 7.30pm
At our BIPOC Affinity performances we welcome those who identify as Black, Indigenous, and/or People of Color, and multi-racial families, including family members who are not BIPOC. Affinity performances are always Pay What You Wish.
JUSTICE FOR ALL 
& SOUL-CARE RAFFLE 
Buy a ticket & be in with a chance of winning either for the following prize baskets.
Basket One: JUSTICE FOR ALL.
The perfect basket for any law and history buff, or anyone looking to explore Portland's best sights and museums. The Justice for All basket includes two tickets to Pittock Mansion, the Portland Chinatown Museum, the Oregon Jewish Museum and Center for Holocaust Education, and the historic Hollywood theatre (complete with popcorn passes, of course!) Also included are a 7-piece RBG inspired jewelry collection from Dissent Pins and gifts from Citizen Ruth boutique. Total Prize Value: $325. 
Basket Two: SOUL-CARE
Relax and rejuvenate! Heal yourself with this basket, featuring Portland's best local Black owned businesses.  Included are 1 unisex and 1 fitted t-shirt from Mimi's Fresh Tees, 2 1 oz. Aesthete Teas, 2 Pink Himalayan Salt Scalp Scrubs from Lovely Coils, Cedar Amber Body Scrub and Body Cream from Imani Marie Products, and Ghanian bath products from The Asaa Boutique. Total Value of $230.
You can purchase one ticket for $5, or five tickets for $20. 
Lester Purry and Lou Bellamy return to the Playhouse for Thurgood – the inspiring story of the first African-American to sit on the Supreme Court of the United States. From his early days as a civil rights lawyer arguing the landmark case of Brown vs. Board of Education to the end of institutionalized segregation, Thurgood spans the impressive 58-year career of Justice Thurgood Marshall all the way to his appointment to the highest court in the land.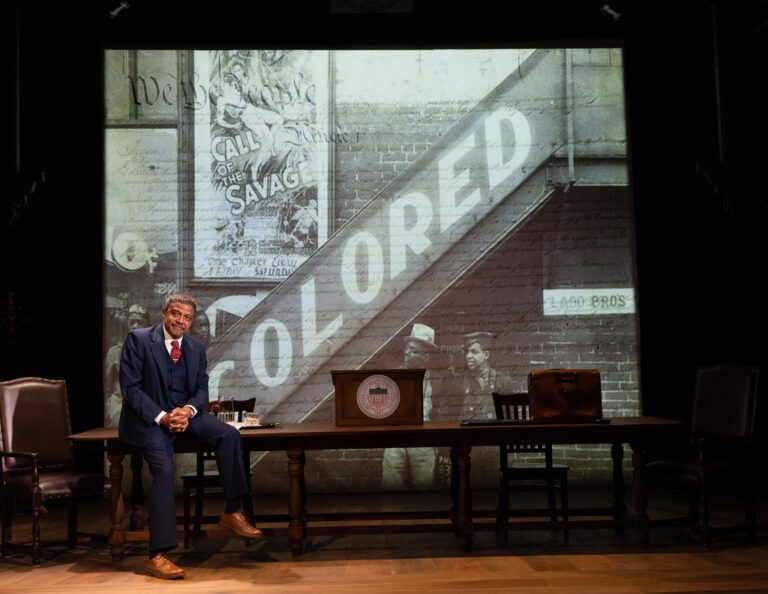 With Portland Playhouse at Your House, we invite you to enjoy Thurgood on-demand, and in the comfort of your own home. Simply select the on-demand option on the ticket page, and you will be sent a link to watch our Season 14 production of Thurgood (If you purchase your on-demand ticket before February 4th, you will receive a second email with your watch link on February 4th, 2022). You will have a two week window to watch  from the date of your purchase.  So, order your on-demand ticket, make some popcorn and pour yourself a drink and get ready to join us for this riveting play about the life of a true lion of U.S. civil rights law – all from the comfort of your own home.
All on-demand purchases must be made by February 27th. The video link will be live until March 6th, however, once you press play you will have a 48 hour window to watch the production.
Lester Purry as Thurgood Marshall in Thurgood. Photos of the production by Shawnte Sims
CAST
Justice Thurgood Marshall
Lester Purry*
CREATIVE TEAM
Director: Lou Bellamy ~
Scenic & Prop Designer: Vicki Smith
Costume Designer: Casey McNamara

Original Lighting Designer: Don Darnutzer

Lighting Designer: Daniel Meeker ~

Sound Designer: Justin Ellington ~
Projection Designer: Rasean Davonté Johnson ~
Assistant Director: Tim Toothman
Stage Manager: David Levine*
Lead Carpenter: Corey McCarey
Lead Electrician: Allison Blaine
Audio Engineer: Rory Breshears
Video Engineer: Alan Cline
Scenic Artist: David Pritchard
Production Apprentice: Maia Denzler+
Production Apprentice: Genesis Hernandez+
Stage Management Apprentice: Jasmyn Tilford+
Covid Compliance Safety Manager: Thyra Hartshorn
UNDERSTUDY
Anthony Michael Shepard+
*Appearing through an Agreement between Portland Playhouse and Actors' Equity Association, the Union of Professional Actors and Stage Managers in the United States.
~ Member of United Scenic Artists.
+ Portland Playhouse Apprentice Company Member.
This production was originally produced by Geva Theatre Center.  Thurgood was first performed at Westport Country Playhouse and subsequently on Broadway. Thurgood is produced by special arrangement with Broadway Play Publishing Inc, NYC. 
www.broadwayplaypub.com
Thank you to Jim Lykins, Sara Beukers, PVS & Matt Reinert.
Thank you to our play sponsors
Zero Energy Project, Karen Fink, Carla Kelley, Judy & Gregory Kafoury, Mimi & Stephen Kafoury
And to our Season Sponsors
Our media sponsor is Oregon ArtsWatch