It truly takes a village to make a piece of art, and none of us can do it alone. Each project has a Lead Artist, who created the concept for their short. They each called upon their community to find Collaborators to help them tell their stories. Collaborators range from actors, dancers, musicians, designers, filmmakers, and more. Scroll down to read about all the folks who make Return to Wonderland happen!

La'Tevin Alexander (he/him)
Lead Artist for Larry & Joe-Joe
La' Tevin first thanks God for all things in life. A native of Perry, Florida, La' Tevin is an alumnus of Florida A&M University, and he has been blessed to work on some wonderful projects. Previous acting credits include: The Paper Tigers (Netflix); Portlandia (IFC); GRIMM (NBC); Topdog Underdog (Lincoln); And in This Corner: Cassius Clay (Clay); Fences (Corey Maxson); and Hands Up: 7 Playwrights, 7 Testaments (Actor "How I Feel"). His recent directing credits include: Twang (BLVCK Film Collective); Jump (Confrontation Theatre+Milagro); Sibling Rivalry (Confrontation Theatre); and more! La' Tevin is building an artistic career with a fierce and passionate commitment to uplifting the African diaspora and engaging communities through the art of theatre, film, tv, voiceover, and storytelling.
IG: @LaTevinAlexander Twitter: @LTevinAlexander | FB: https://www.facebook.com/LaTevinAlexander/
Hayley Durelle (she/her)
Lead Artist for Walla Walla
Hayley is delighted by women who experiment fearlessly with their art, believe in their biggest ideas, and pronounce themselves geniuses. As a director, writer, occasional zinester, and avid reader, she seeks out stories of women at the intersections of art, culture, class, and queerness. She likes science fiction, sour gummy worms, and bodily autonomy.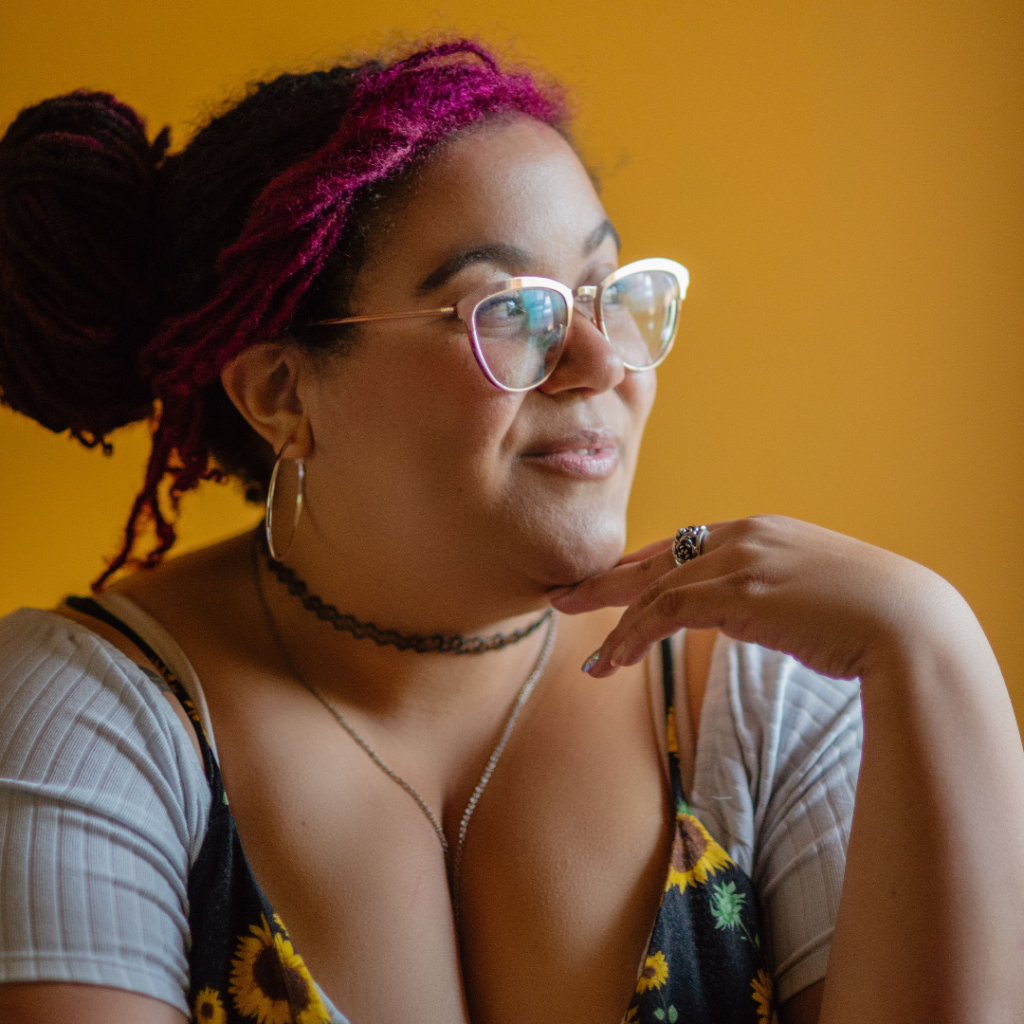 Kamryn Fall (she/her)
Lead Artist for Oops! You Didn't Again (Working Title)
Kamryn Fall (she/her) is a filmmaker, director, and dancer. She works with theaters, musicians, and artists to explore the ways art and technology support each other. She produced and directed the one act Most Massive Woman Wins in March of 2019. In 2020 she created a series of music videos for Kingsley's upcoming album to highlight Black joy and magic. Previously, she completed a fellowship in the pilot year of Open Signal's Black Filmmakers Initiative. She is currently in post-production for the limited series Dearest Eva, a project of love that highlights Black joy and tells an un-historical story of Victorian romance. This project was a Kryptic Films LLC production, which Kamryn founded as a director and editor, for the purpose of community centered art.
La'Toya Hampton aka The Poet Lady Rose (she/they)
Lead Artist for Petals and Thorns: A Spoken Word Journey

La Toya A. Hampton, MSW, a native of Portland, Oregon, is a former mental health therapist, educator, entrepreneur, and poet, who began performing spoken word poetry in 2008, using the stage name Lady Rose, in memory of her late father, Roosevelt. She has performed at open mics and been the featured performer of venues and platforms based in Portland, Los Angeles, Memphis and New York City. Her poem "Brown Knows" is featured throughout the acclaimed documentary Black Girl in Suburbia. Currently, several of her pieces can be viewed as part of University of Oregon's "Unceded Kinship: Land, Place and People" exhibition on display until September. As an educator and mentor to youth for 25 years, La Toya has also conducted classes/presentations for elementary, middle and high school students, helping them to explore poetry and use writing as a form of self-care and expression, as well as a tool to uncover and share in common interests and struggle. She was recognized for her work with youth in 2013, chosen by Deena Pierott of iUrban Teen to receive The Compass Award, which was presented to her by then-Mayor of Vancouver, Washington, Tim Leavitt. Also in 2013, she spearheaded her one-woman show, "Holes of a Piece of Me: An Introduction to Lady Rose," at Headwaters Theatre in Portland, Oregon and self-published a zine of the same name that will undergo an expanded re-release as a full-length book due out Summer 2022.