It truly takes a village to make a piece of art, and none of us can do it alone. From dozens of submissions, seven Panel Judges from various artistic disciplines chose works that, as we approach winter and the days grow shorter, bring in the light. Each project has a Lead Artist, who created the concept for their piece. They each called upon their community to find Collaborators to help them tell their stories. Collaborators range from actors, dancers, musicians, designers, filmmakers, and more. Scroll down to read about all the folks who made Wonderland happen!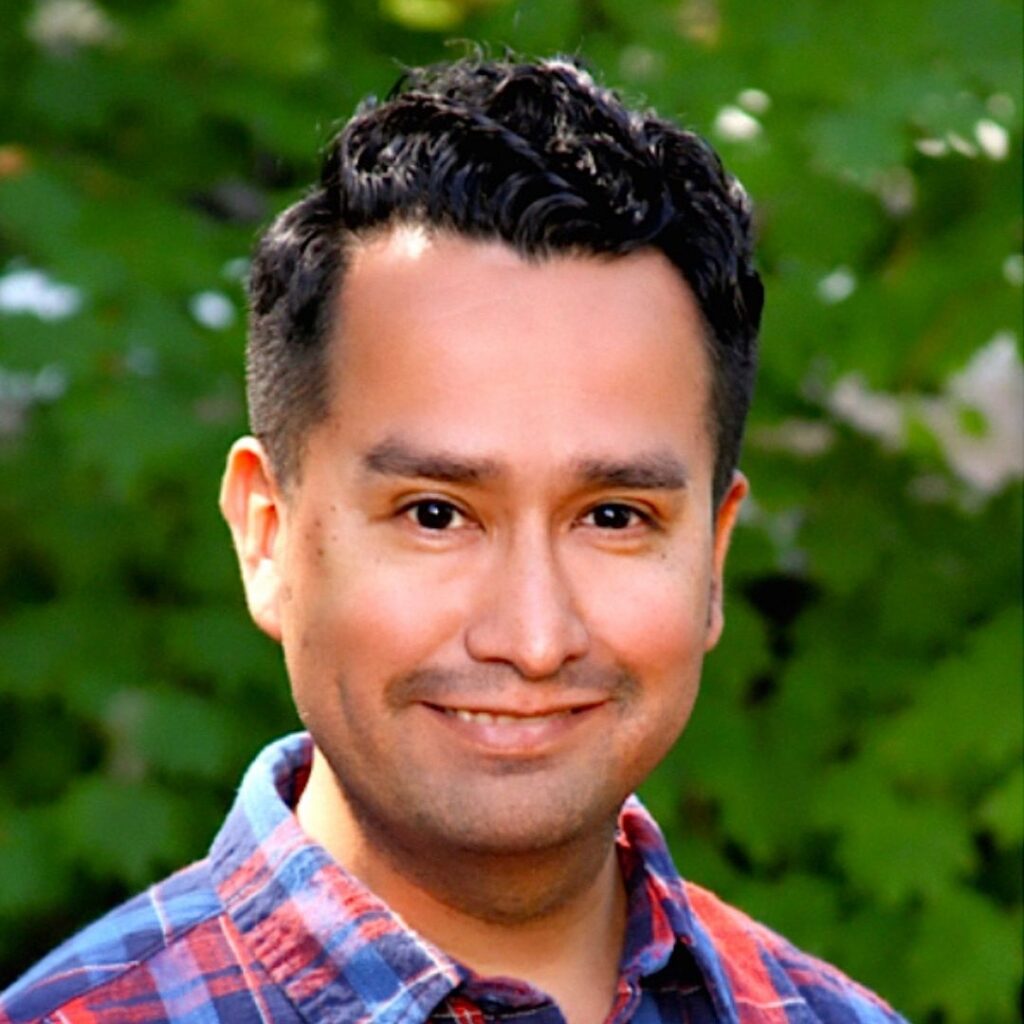 FRANCISCO GARCIA
Creator of 545
Francisco is a director, actor, educator, and playwright. His recent directing credits include the world premieres of Emilio Rodriguez's Swimming While Drowning and Olga Sanchez's Broken Promises for Milagro Theatre,  Joan Cushing's Diary of a Worm, a Spider, and a Fly and Jose Cruz Gonzalez's Tomás & the Library Lady for Oregon Children's Theatre, and Naomi Iizuka's Anon(ymous) for Lewis & Clark College, where he also worked as a adjunct professor. In 2013, Francisco served as a guest playwright for CalArts' CAP program, where his adaptation of Fuente Ovejuna was performed at REDCAT Theatre. In 2015, he wrote Odessa, an adaptation of The Odyssey for Profile Theatre's Educational Outreach Program, which was performed in conjunction with Beaumont School. As an actor, his recent credits include NBC's Grimm, IFC's Portlandia, A24 Film's Lean on Pete, and JAW: Playwrights Festival for Portland Center Stage. He is a proud member of AEA and SAG-AFTRA and serves on the board of directors for Theatre Diaspora.
TIP THE ARTIST:
Venmo: @Francisco-Garcia-616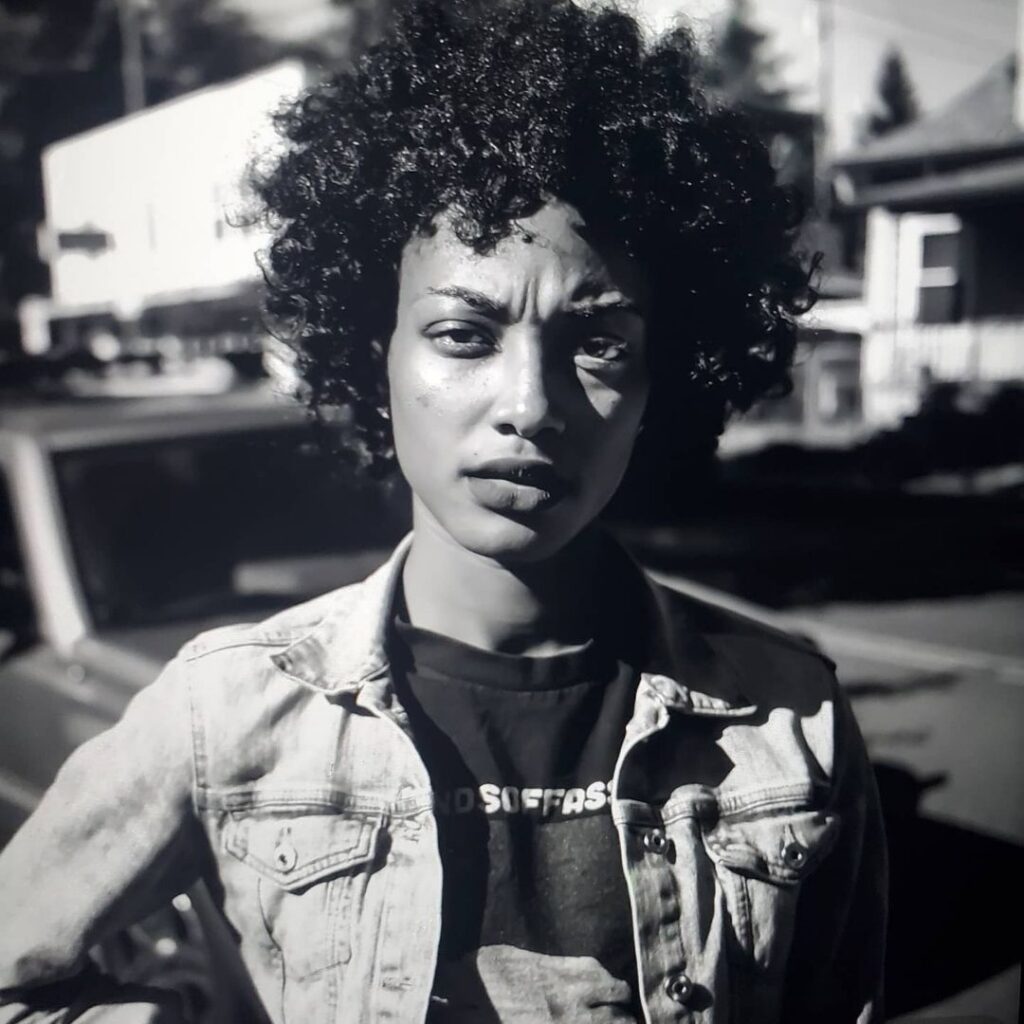 FYNDI JERMANY
Creator of Catharsis
Fyndi Jermany is a queer multi ancestral performing artist and creative who was born in Washington D.C and grew up in Portland, Oregon.  She is inspired by her everyday life as well as history and pop culture; the traumas of her childhood encompass much of her work. As a child, Fyndi began immersing herself into theater, engaging in various performances into her adulthood. Whether impromptu or deliberate, her eclectic dancing style aims to engage the masses with introspective questioning.  She looks forward to future creations as well as further artistic development.
TIP THE ARTIST
Cashapp $Fyndij and on Venmo @Fyndij. 
ASHLEY MELLINGER
Creator of Private Chat
As a theatre artist and filmmaker, Ashley Mellinger is committed to telling stories that re-imagine traditional narratives and include marginalized voices without centering on their identities and trauma. She is an award-winning half-Korean actor and producer. After graduating from NYU's Tisch School of the Arts and working in NYC for a decade, she moved to Portland, Oregon and co-founded Desert Island Studios to increase artists' accessibility to film resources. Recent producing credits include Dawn Jones Redstone's proof-of-concept for her debut feature Noelia, and Roland Dahwen-Wu's first feature Borrufa. Pre-pandemic, her writing debut L'Ortolan was selected for the 2020 Spliff Film Festival and Portland Shorts Fest. Post-pandemic, she co-wrote and starred in the AAFL 72 Hour Shootout film, Vent (which won 2nd Runner Up, Best Editor, and Best Screenwriter).
TIP THE ARTIST
Venmo: @ashleymellinger, Paypal: Cinderellinger@gmail.com, Cashapp: $AshleyMellinger
KAILEY RHODES
Creator of The Mythology of Blame

Kailey Rhodes is a Portland-based theater-maker and body-shaker. Credits include Miss Bennet: Christmas at Pemberley at Portland Center Stage; Into the Woods and Ordinary Days at Broadway Rose Theatre; The Wolves at Portland Playhouse; Sense and Sensibility at Clackamas Rep; and Urinetown and The 25th Annual Putnam County Spelling Bee with Anonymous Theatre Company. She has previously appeared in Teenage Dick, An Octoroon, and The Importance of Being Earnest at Artists Rep Theatre, and hopes to rejoin them again one fine post-COVID day for their world premiere of Anthony Hudson's Looking for Tiger Lily. She doesn't have much to say because 2020 took all her words, and what she has left, she put in this piece. kaileyrhodes.com
TIP THE ARTISTS
Cashapp: $kaileyrhodes1 / Venmo: @kaileyrhodes1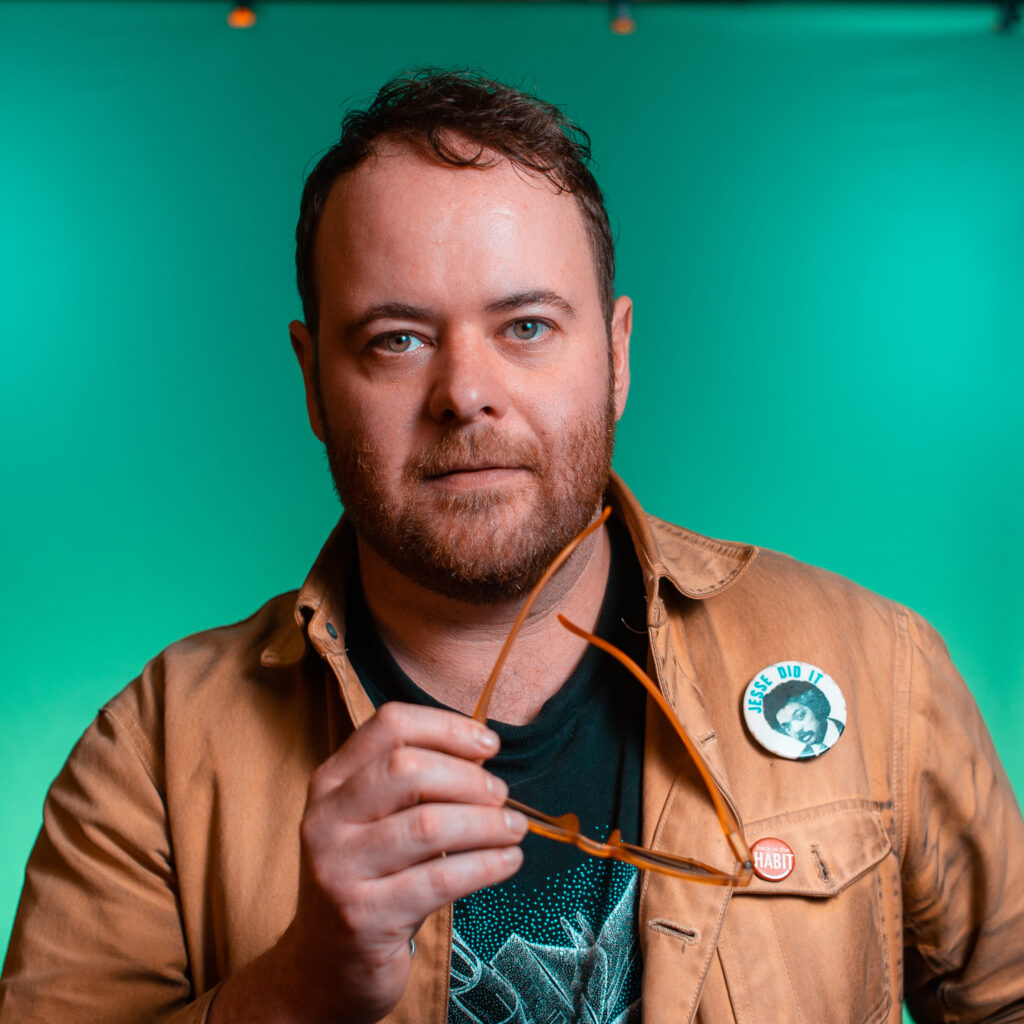 JESSE BETTIS
Editor/Sound Mix for Private Chat
Jesse Bettis is a Portland-grown filmmaker/composer who specializes in writing and directing short-form comedy, and quirky commercials. He is an award-winning film composer, with over 20 years of music production experience. His band New Move can be heard in the closing credits! Jesse is the co-founder of the production group, New Move Media. You can find most of his work at www.newmove.co. Feel free to contact him with any questions or comments on Instagram: @youbettisbelieveit.
JOE BOWDEN
Director/Cinematographer – Private Chat
Joe Bowden is a writer/filmmaker/producer based in Portland, Oregon. He writes and directs absurd comedy, music videos, and other short narrative pieces, but he has also produced commercial projects, worked in the art department, and created television programming for XRAYTV. He also plays music and runs a film workspace collective in North Portland. You can find links to most of his work at josephbowden.com, including the music video for "No Means No" by the Portland band, Ezza Rose. Feel free to hit him with comments, questions, and food-challenges, or scroll through his inane comments on Instagram: @bowden_joe. Enjoy!
TYHARRA COZIER
Performer – The Mythology of Blame
Tyharra Cozier is an artist, teacher, and commercial property manager who decided to lay roots in Portland, Oregon, in 2015. She originally grew those roots in Broward County, Florida, graduating from  Florida State University with her Bachelor's in Theatre.  Her most recent works include You Are Here (Third Rail Repertory), The Breath Project (The Breath Project Festival in partnership with Portland Center Stage), Pipeline (Confrontation Theatre/Portland Playhouse), Soul'd (Vanport Mosaic), Midsummer Night's Dream (Anonymous Theatre),  Cop Out! and  Hands Up: 7 Playwrights, 7 Testaments (Red Door Project). There is a running joke that Tyharra is 'BUSY' and has 'like, four jobs'. Both are true; though there are different reasons for this on different days, it all circles back to her love for people and her love for her craft. She's grateful for the women in her life and honored to create alongside the women in this piece. 
DEVIN FEBBRORIELLO
Art Director – Private Chat
Devin Jane Febbroriello is a writer / director, executive producer + artist that specializes in the creation of thought provoking stories, memorable visuals + illuminating experiences. She is of Irish Italian descent and was raised on the east coast of North America as part of a large blended stepfamily. Her work is informed by a deep-seated interest in bridging liminal imagination and traditional forms of storytelling to repurpose archetypal modes of expression, and explore the belief systems, mythologies, and images that shape our culture and relationships. As a film graduate of Emerson College (2004) and specialized cinema studies at FAMU (Czech Republic) she's worked on feature films (Glass Eye Pix), network television (NBC, HGTV, MTV, SPIKE), short films and music videos (Stereogum and Pitchfork premieres) in New York City and Portland Oregon for the last 16 years.
MERRI GARCIA
Original Music – 545
Merri is honored to be working on this piece that gives voice to children who have been affected by family separation. She is an educator with a passion for equity and social justice. Over the years, she has played with bands in Portland and Los Angeles, and has recorded two solo EP's.  Everyday experiences and politics inspire her as a singer-songwriter. She would like to dedicate this piece to her daughter, Audrey.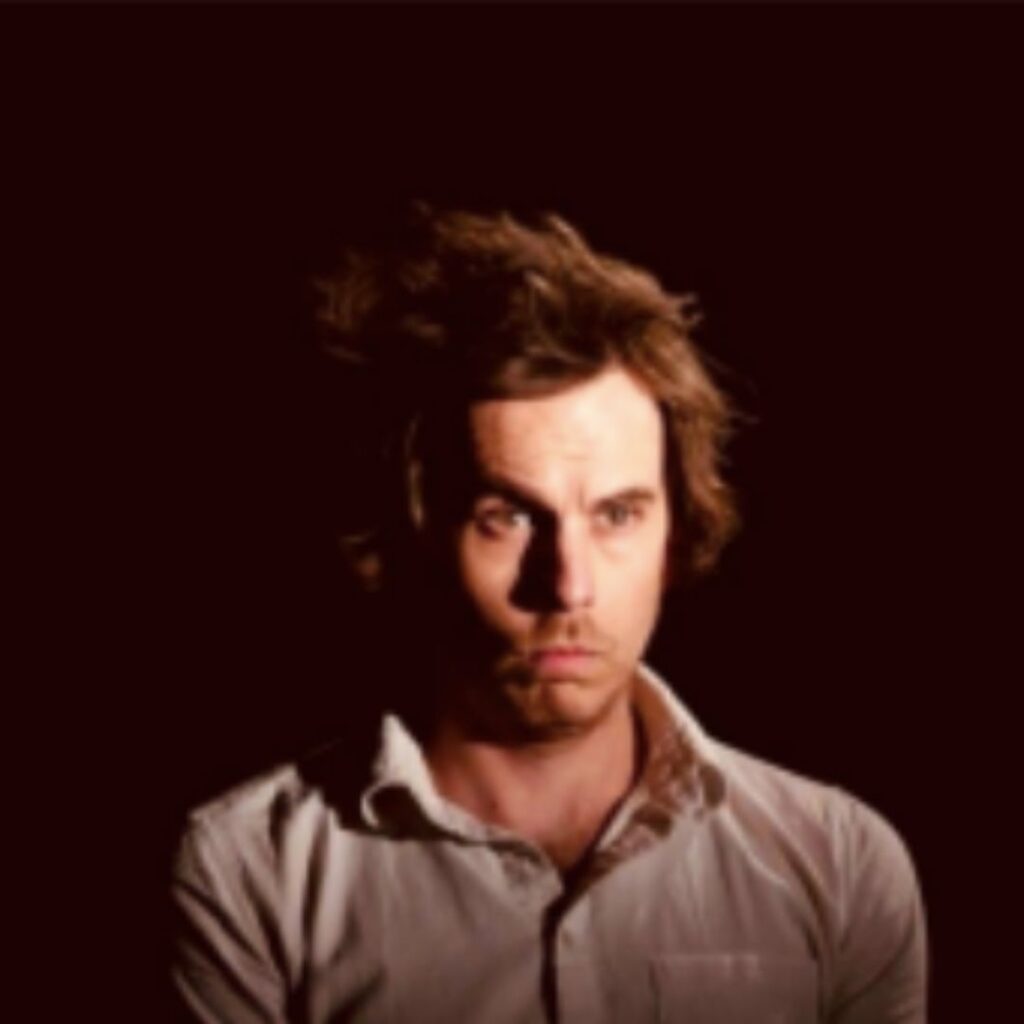 PHIL GARRISON
Sound Recordist – Private Chat
Phil (Philly) Garrison is a music, field sound and post production sound engineer with a focus on scoring and sound design. He is also an educator and teaches classes on music production and sound for film at Portland Community College. He has been working in the indie film and music scenes in Portland OR, for over a decade, as well as composing, performing and recording music for over twenty years in various west coast towns/villages. Phil's professional goals as well as in life are to, make art, help others do so and do it well! There is really not much more to say about the man other than that he can be sorta funny from time to time and always loves to share a laugh with his friends, family and coworkers.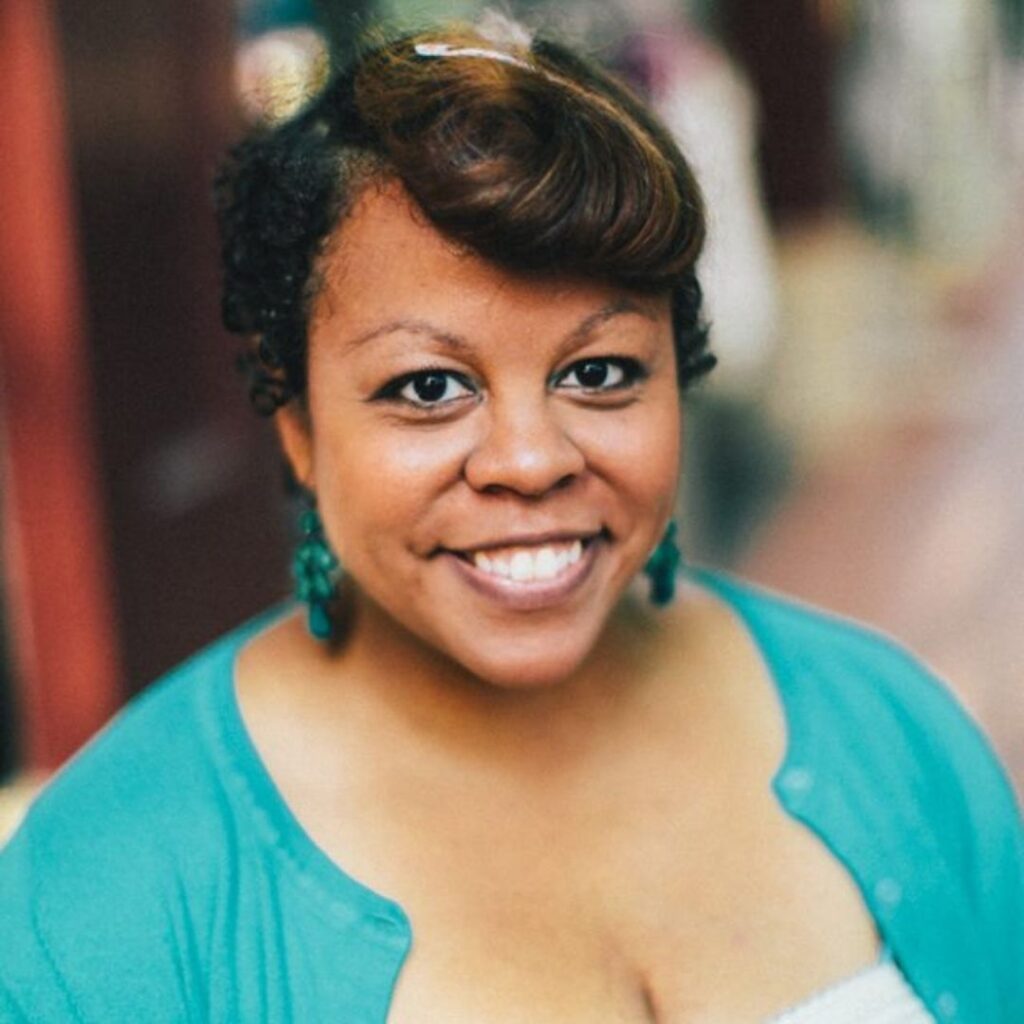 KISHA JARRETT
Performer – The Mythology of Blame
Kisha Jarrett is the Audience Development and Marketing Director at Artists Repertory Theatre as well as a writer, actor, musician, director, and storyteller. A Virginia native, she has lived all over the country (as well as Barcelona and London) but now calls Portland, Oregon home. She has performed for both stage and screen, been a musician at SXSW, and has been a costume designer for the stage and television. Through storytelling, she has performed for the Moth (2017 and 2018 GrandSLAM winner), Back Fence PDX, Seven Deadly Sins, Wildfang, and more. Most recently, she was seen onstage at Portland Center Stage @ The Armory as the Headmistress in School Girls; or The African Mean Girls Play. She is the Creative Executive Producer of a short film See Me, filmed in November 2020. Currently, she is working on her second feature-length screenplay and writing her first novel. 
KIRK JOHNSON
Cinematographer/Editor – 545
Kirk W. Johnson is a Portland-based filmmaker and photographer whose work spans narrative and documentary film, music videos, events, and promotional content. Originally from Chicago, his work as a cinematographer includes the feature films South Loop, The Girls on Liberty Street, and Mandarose, which have been exhibited at events like the Chicago International Film Festival, Brooklyn Film Festival, Northwest Filmmakers Festival, and more. Locally he has worked with organizations such as Portland Playhouse, Public Annex, the Chehalem Cultural Center, and the Oregon Council on Developmental Disabilities, and as a director and cameraperson for studio concerts hosted by 101.9 KINK and Live 95.5. He would like nothing more than to just make small, quiet movies with crews of 10 to 20 people everyday until the end of time. Kirkwjohnson.net Venmo: @kirkinsonian, CashApp: $Kirkinson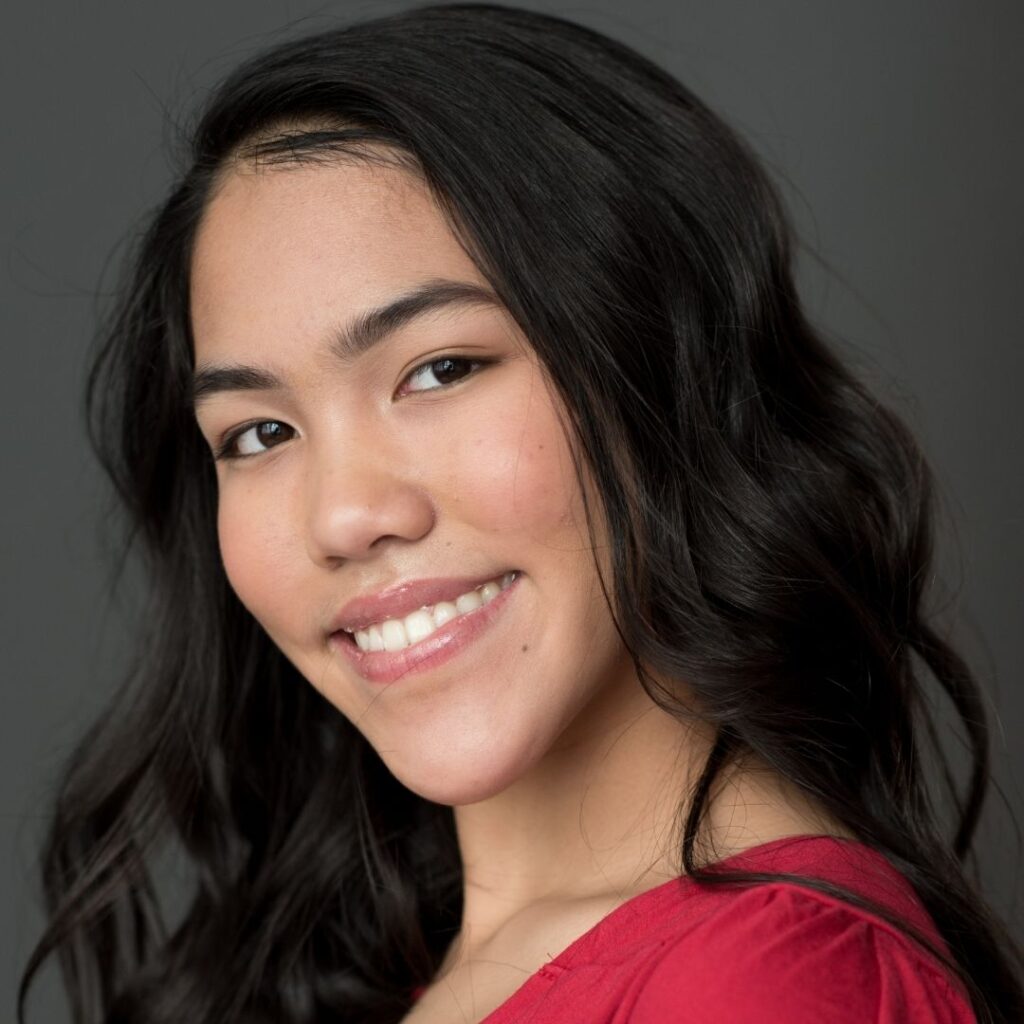 LULU KASHIWABARA
Performer – 545
Lulu is thrilled to be involved in this production! Previously, you may have seen her in Matilda at NWCT or Diary of a Worm, Spider, and a Fly at OCT. This will be her third production in collaboration with Francisco Garcia. From Lulu's perspective, this play is centered around such a relevant issue. The reality of detainment is often untold, and society doesn't pay enough attention to it. For this specific reason, Lulu wants to participate in this show and spread awareness about the unacceptable events occurring in the U.S. Lulu would like to thank her family for always uplifting and encouraging her. She'd also like to appreciate her sister Mila for doing this amazing project with her. Lastly, Lulu wants to give thanks to Francisco and the production team that made this show possible.
MILA KASHIWABARA
Performer – 545
Mila is so excited to be back at the Portland Playhouse after making her Playhouse debut in the role of Tiny Tim in A Christmas Carol in 2019. She has been a student of acting and musical theatre since she was 5 years old. Currently she is a member of Kids Company and Studio Jr. at Northwest Children's Theatre. When she isn't acting, she can be found dancing, writing fairy tales, practicing piano, singing and baking. She would like to thank Francisco for this opportunity to both be part of this production and to perform with her sister, Lulu! She also would like to thank the Portland Playhouse and her family for being so supportive.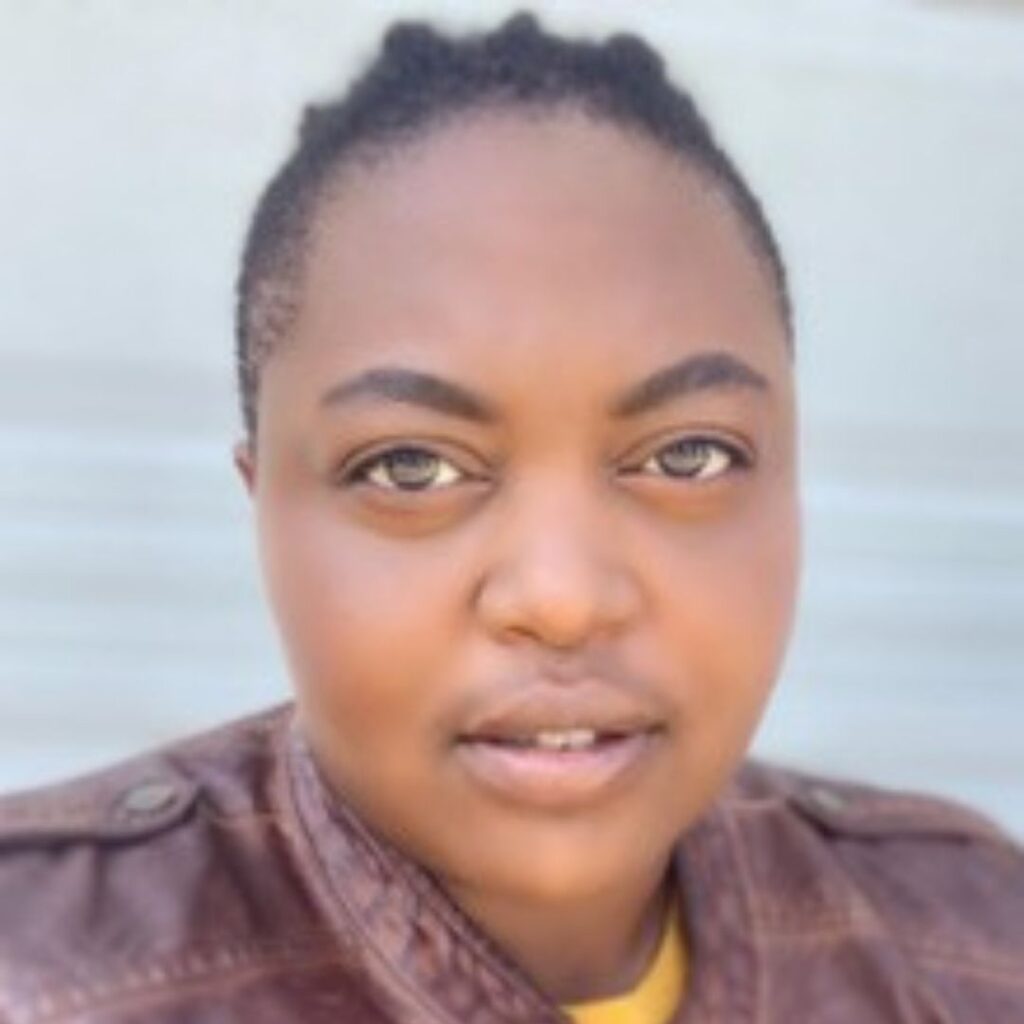 TREASURE LUNAN
Performer – Private Chat
Treasure Lunan (they/themme) is a Black, queer, gender variant performer whose work aims to focus on those intersections and how they affect their movements through the world. Recent performance credits include Hot N' Throbbing (Profile Theatre), Vinegar Tom (The Theatre Company), Mlima's Tale (Profile Theatre) Weighted Bodies (Risk/Reward), Curious Incident of the Dog in the Night-Time (Portland Center Stage), School Girls: Or, the African Mean Girls Play (Portland Center Stage) and The Most Massive Woman Wins (Deep End Theatre).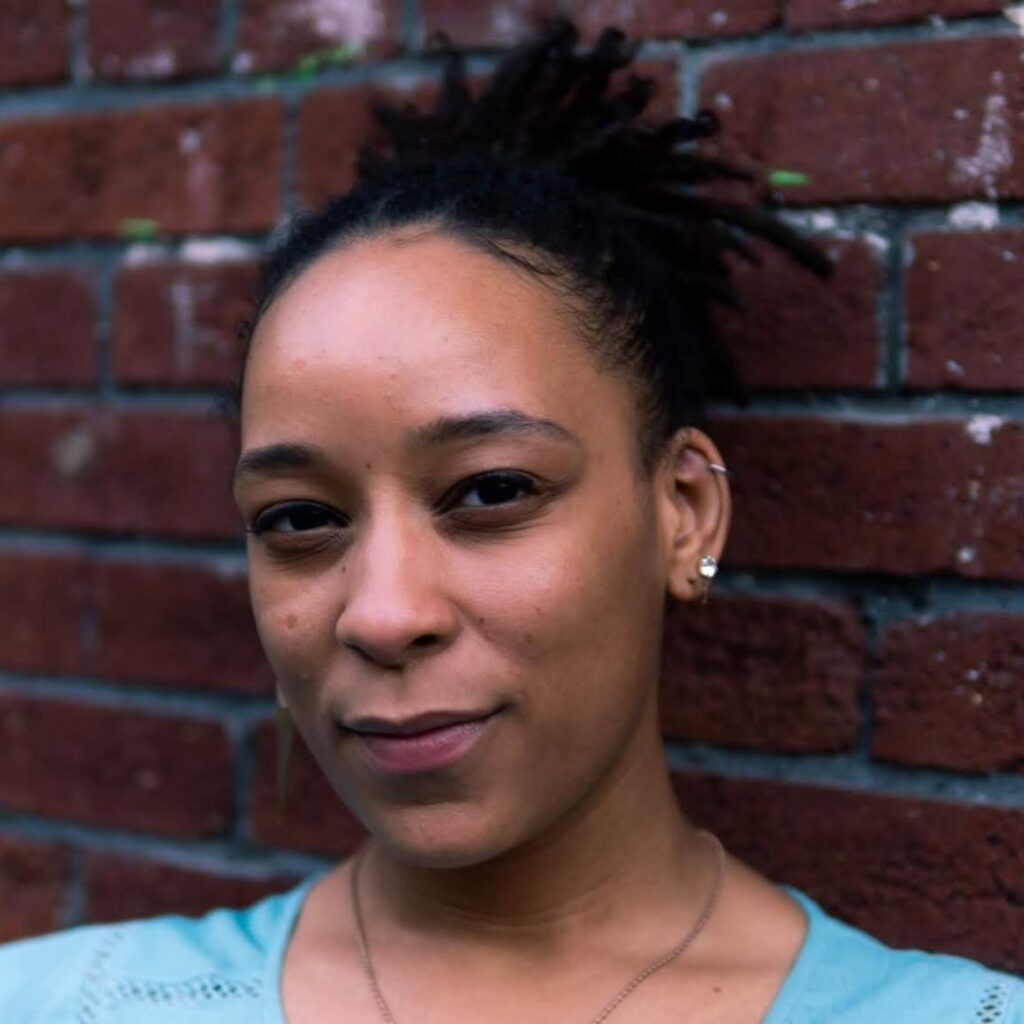 TAMERA LYN
Cinematographer/Editor – Catharsis and The Mythology of Blame
Tamera Lyn is grateful to have this phenomenal experience, merging the art of theatre and filmmaking! She was born and raised in Atlanta, GA, studied Theatre Performance at Florida A & M University, then moved to Portland, OR, to further develop her craft with the Portland Playhouse as an apprentice in twenty-sixteen. Since, she has performed with many theatre companies around town, while also working as a filmmaker under her own production vessel, Sunflower Creations. Follow her journey at tameralyn.com. peace + blessings.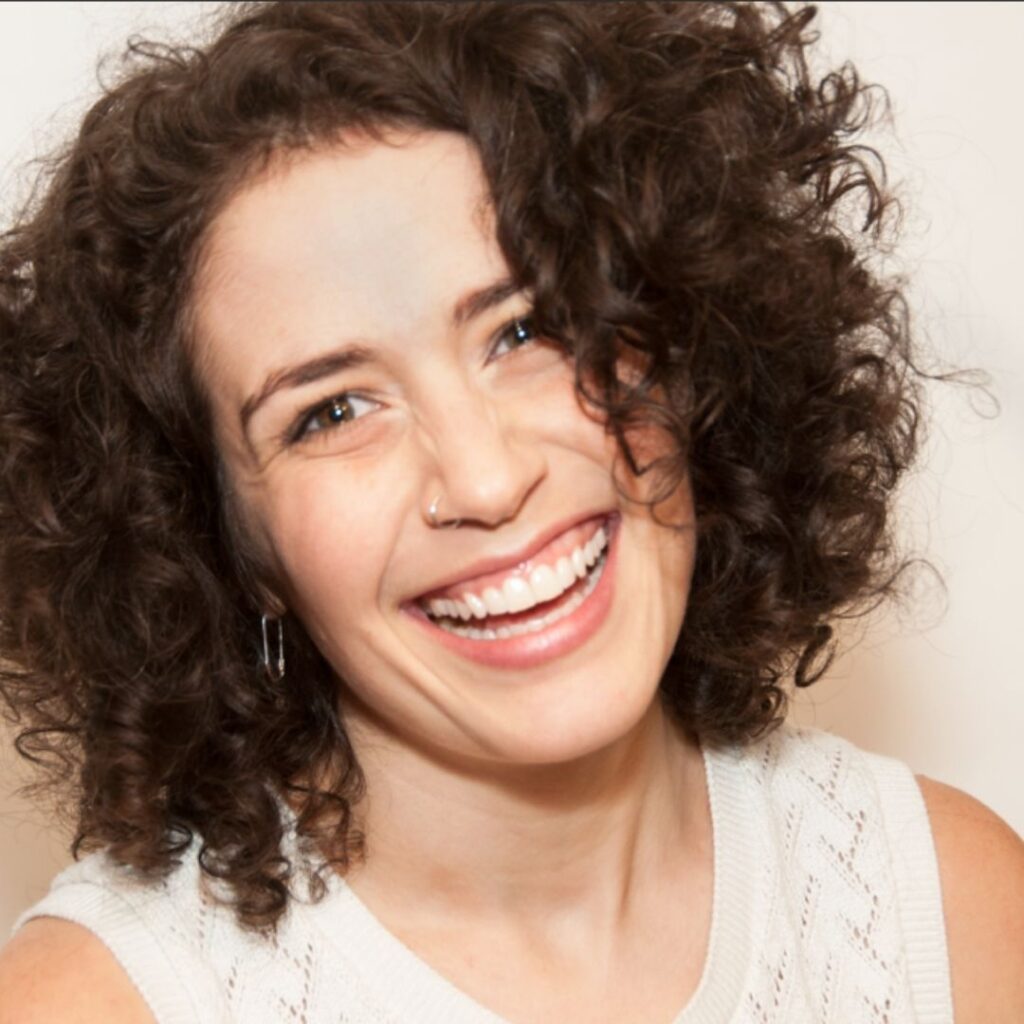 CLAIRE RIGSBY
Performer – The Mythology of Blame
Claire Rigsby is a performer/mover/shaker originally from Atlanta, GA. Before she landed in Portland, performance took Claire from Georgia to London to China to California. Select local credits include 1984 and The Thanksgiving Play with Artists Rep, The Secretaries and Las Meninas with Profile Theatre, Friends with Guns with Chapel Theatre, A Christmas Carol with Portland Playhouse, James and the Giant Peach with Oregon Children's Theatre, The Rocky Horror Show and Falsettos with Live Onstage!, and Grease with Broadway Rose Theatre Company. Some of her most fulfilling work has come out of studying with PETE and their Institute for Contemporary Performance, where she created her first solo show Lady in Pink and a duet Palindrome Machines with her collaborator Keegan Kyle, for which they received a RACC project grant and an artists residency at The Sanctuary in Arcata, California. She's so thankful to be able to continue to create under so many extreme circumstances, and she's thankful to all of you for coming on the journey with her.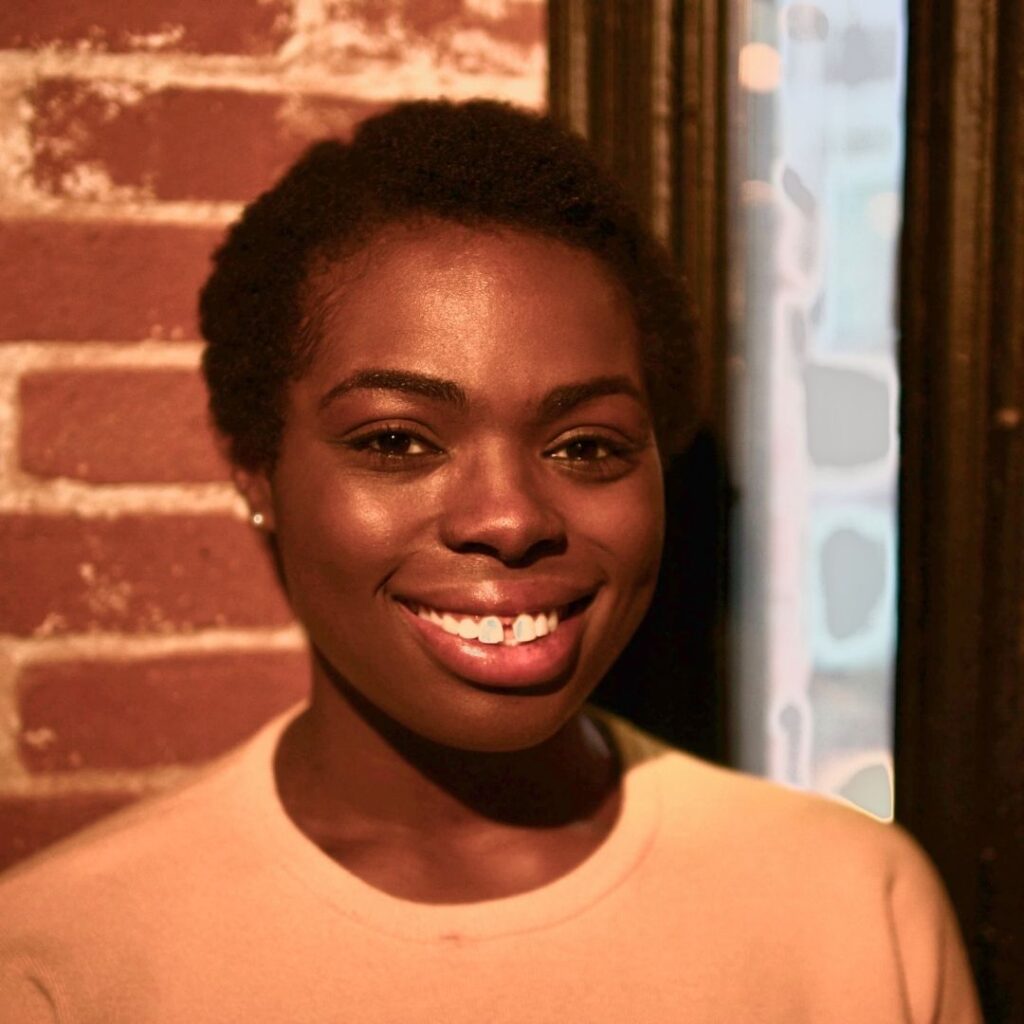 ANDREA VERNAE
Performer – The Mythology of Blame
Andrea Vernae is an artist from Miami, Florida. Since being in quarantine she has questioned everything about the world, herself, and where the art she loves takes place in it. She is grateful to be working artistically in these times, it has been the light that fuels her soul. Her recent works include SEE ME (Artists Repertory Theatre), Today Is My Birthday (Artists Repertory Theatre), and School Girls: or The African Mean Girls Play (Portland Center Stage). She is a part of the Blvck Film Collective and she recently wrote and directed her first short film entitled You Don't Know Naan. She is grateful to be working with these incredibly talented and gracious women in this piece. Big thank you to Kailey Rhodes for bringing us all together and building an incredible team, you are the G.O.A.T.
THYRA HARTSHORN – Production Manager and Lighting Designer
KANON HAVENS – Grip/Gaff Swing for Private Chat
IZAH JOHNSON – Performer in Catharsis
LIZ MOUGHLON – 1st Assistant Camera for Private Chat
KOBI PACHAL Performer in Catharsis
MAX TAPONGA – Production Assistant for Catharsis and The Mythology of Blame

CAROLINE WILKES – Production Assistant


From dozens of submissions, seven panel judges chose works that, as we enter the shorter days of winter, bring in the light.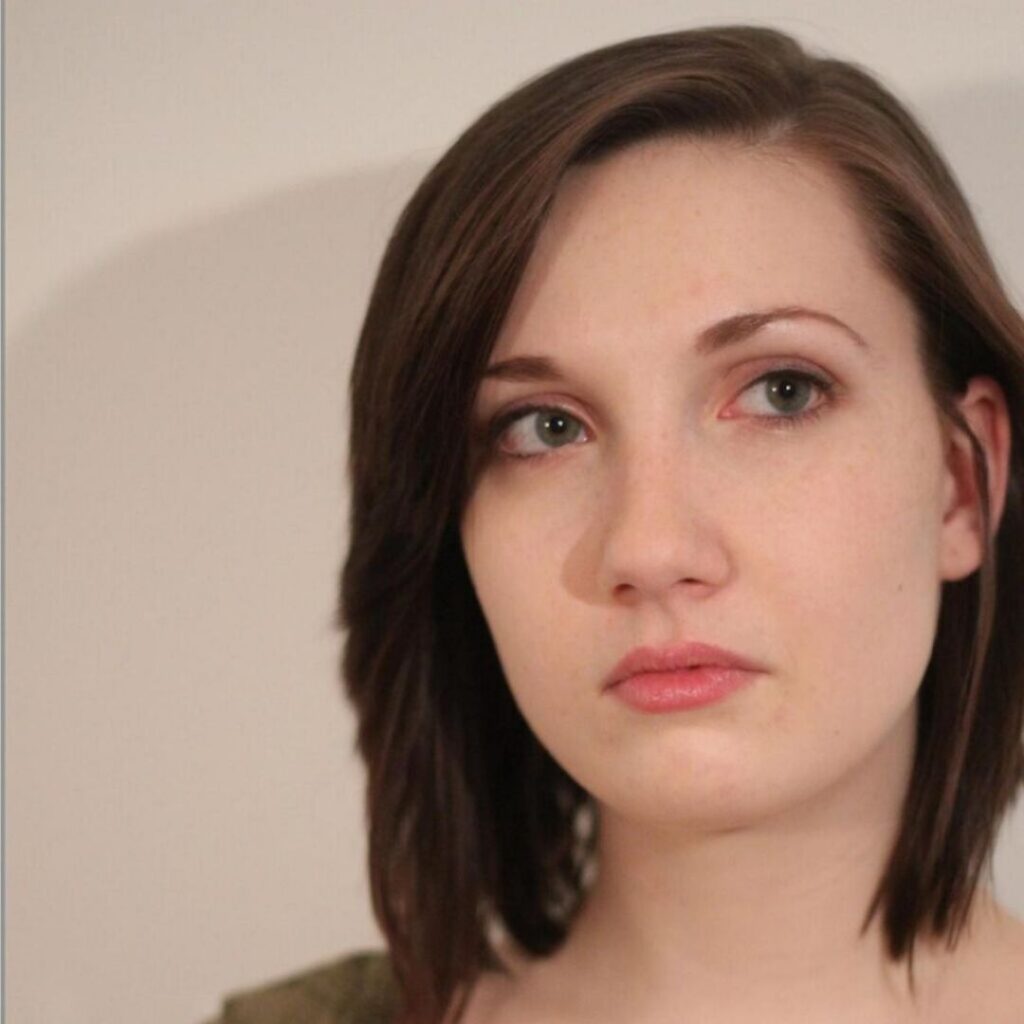 ERIN DIIORIO

Erin DiIorio is a theatre artist from the NJ/NY area. She received her BA in devised and collaborative theatre from Pace University and is a recent graduate of the William Esper Studio's two-year program. Erin is a founding member of the NYC-based collective Alcohol, Honey, & Shit, and hopes one day to run her own theatre.
JAMES DIXON

James Dixon is a Portland-based actor, director (SDC), playwright, and equity facilitator. James most recently served as the EDI Chair for the PATA Board of Directors and currently serves on the Accountability Collective. There is a wealth of self-empowerment, wisdom, and fulfillment in telling your own stories. So James now focuses on creating through an equity lens in an effort to bring communities closer to the stories that display the beauty of the human condition. His favorite directing credits include "Matter" with May Hats and Portland Playhouse, Bootycandy with Fuse Theatre, The Mysterious Affair At Styles with Linestorm Playwrights, Gender-fication with 360 Labs, and as a Cultural Advisor for Hair with Staged.
CHARLES GRANT

Charles grew up in sunny California, where he received a BFA in Acting and a minor in Black Studies from the University of California, Santa Barbara. His journey with Portland Playhouse began in 2016, when he was a part of the Season 9 Apprentice Company. Over the years, he has worked with the Playhouse in both Audience Services and Education capacities. As Associate Producer, he works with the Artistic Director as a casting director & coordinator for main stage productions, produces events and programs for the community, and works with the Production Manager on contracts and negotiations. In addition to his duties as Associate Producer, he is also an actor. Selected performance credits include Redwood and Miss Bennet: Christmas at Pemberley (Portland Center Stage), Bootycandy (Fuse Theatre Ensemble) and Jump (co-production with Confrontation Theatre and Milagro Theatre). He is grateful to share the magic of theatre with this city through his work on, off, and backstage. Portland has become his home, and he is happy to be a part of this community. Check out more at: thecharlesgrant.com
HAYLEY HILMES

Hayley is a fundraiser, database administrator, lifelong resident of the Pacific Northwest, avid reader, podcast enthusiast, and sunlight seeker. She earned a BA in Theatre Arts at the University of Puget Sound, with a focus on dramaturgy and directing. At Portland Playhouse, she is an advocate for theatrical work that challenges our assumptions, introduces us to new points of view, and reflects the community we serve.
ALIX KOLAR

Alix has worked in arts- and youth-focused nonprofits and organizations for more than 15 years in the Northwest, including helping to run a national queer arts and music festival. In their time working with nonprofits, Alix started bookkeeping five years ago as a way to support the small organizations they value. Alix is a believer in social justice and radical politics, has a deep love of photography, speaks French and is an (ex-) Midwesterner who likes to spout facts about Ohio.
ROB SMITH

Originally from Washington DC, Rob has been drumming since the age of 12 and has performed in countless scenarios since. As well as drumming, Rob has worked in arts education for over 20 years with a focus on social justice and human rights, motivated by the belief that everyone deserves equal and affordable access to the arts. Rob doubles as the Director of Community Engagement for PHAME, a Portland arts organization serving adults living with Intellectual and Developmental Disabilities.
JAZMINE VILLALINO

Jazmine Villalino has recently received her BA in Theater from UCLA and is more than thrilled to be this year's Directing Apprentice at the Portland Playhouse. She first specialized in Stage Management and Production before getting bit by the directing bug. Her first full-length production (which she directed and stage managed) was the play Real Women Have Curves. She was in the process of directing a queered production of Lord of the Flies when it was cancelled due to COVID-19 circumstances. She has also assistant directed Troilus and Cressida for the prolific Rob Clare. Jazmine is interested in alternative types of staging and imbuing theater with her activism. As a queer person of color, she sees the purpose of her art as lifting minority voices to the stage that have so far been silenced and usually prefers to devise new work with her collaborators. In her free time, Jazmine plays music and hangs out with her dog, Percy. She sees her life as a fight against injustice and is excited to begin her work at the Portland Playhouse.