Conceived, written, and performed by Charles Grant

film by Tamera Lyn
directed by James Dixon
movement direction by Jessica Wallenfels
lighting design by Thyra Hartshorn
sound by Sharath Patel
Matter is made possible through generous sponsorship from
Ronni Lacroute
Virginia Belt and Curt Frye
Charlotte Rubin
Thank you to our media sponsor, Oregon Artswatch.

Inspired by recent (and not so recent) events, Matter follows the quest of one young Black man looking to find answers to police brutality and gun violence. Determined to save Black lives, he seeks to sort out the noise of opposing viewpoints and social division with a methodical examination of facts. As his theatrical investigation uncovers patterns of senseless violence and clues lead him to the likelihood of his own death, the reality and tragedy  of lives lost begins to truly hit home.

Matter will be available for free viewing here and on Many Hats Collaboration's website from September 25 – October 1.
To keep up to date on this and other events happening with Portland Playhouse, please sign up for our newsletter.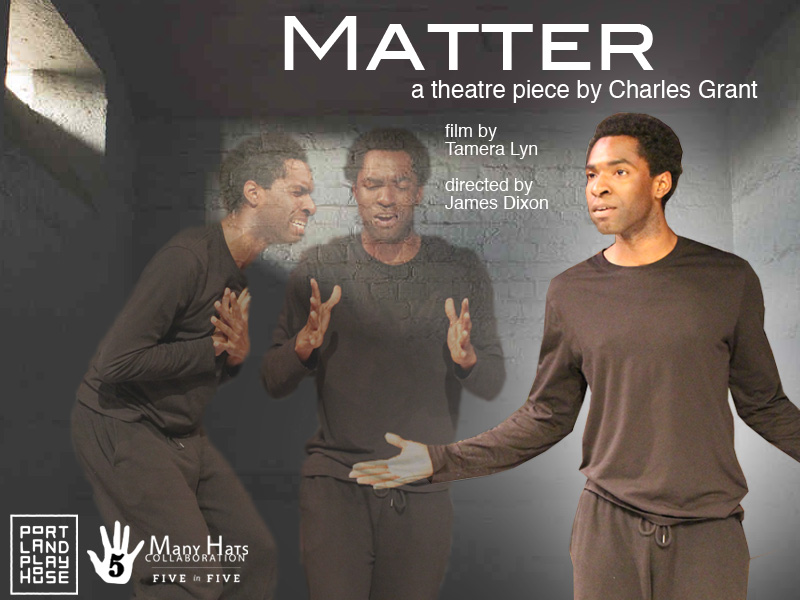 Don't let your interest in this work end when the video is over. Click on the button below to find resources to help you learn more, find help and take action in the support of Black lives.

It is the interest and support from our community that allows Portland Playhouse to continue to create partnerships that lead to work like Matter.  If you are able, consider making a donation to Portland Playhouse, our co-producers Many Hats Collaboration and Don't Shoot PDX. If you aren't able to make a financial gift, please consider sharing information about each organization through your social media channels. Sign up for our newsletter to receive the latest information about all Portland Playhouse events.
This digital premiere event was co-produced with Many Hats Collaboration as part of their "Five in Five" initiative.
The 5 in 5 initiative is an intentionally audacious, self-imposed challenge to create five new works of theater in five years. The 5 in 5 Initiative responds with urgency to the dynamic world in which we live by providing support for voices of artists through collaboration, engaging perspectives of community members and underrepresented populations, and increasing the diversity of representation on and behind Portland stages. 

Don't Shoot Portland is Black-led and community driven. Founded in 2014 by Teressa Raiford, they are a direct community action plan that advocates for accountability to create social change.
From Charles Grant:
"When we are talking about Black lives, we need Black voices to be a part of the conversation. I've chosen to support Don't Shoot PDX because they are Black led, community driven, and all about accountability and action. They provide access, education, and resources to ensure that we aren't just talking about creating social and cultural change, but taking actual steps forward."
Charles is an actor, producer, and teaching artist originally from southern California, now based in Portland, OR. He has worked with various companies over the years: Portland Center Stage, Fuse Theatre Ensemble, Broadway Rose, Portland Playhouse, Confrontation Theatre, Staged!, and Milagro. Selected credits and more at thecharlesgrant.com. Gratitude and love to Many Hats Collaboration, Portland Playhouse, and everyone on the Matter team for their belief and bravery in bringing this project to life. May we all use our power, privilege, and platforms to listen, engage, and truly make this world a better place. 
Visit Many Hats Collaboration's website for full artist bios.
Interested in Getting Involved?
We are always looking for volunteers as well as apprentices, crew members and corporate partnerships.