Portland Playhouse and The Triggered Project present

A REQUIEM OF HEALING
Written by John Oluwole ADEkoje

Keith's Testimonies written by Keith Mascoll and John Oluwole ADEkoje
13 LIVE STREAMED PERFORMANCES!
Previews: March 18 & 19
Opening Night: March 20
Black and Brown Affinity performances: March 19, 26, 28, 31, April 2
ASL interpretation offered on March 28 and April 3
Closes: April 4

Tickets: $5-20
Ticket sales close 2 hours before the start of each performance.
Run time: Approx. 90 mins
Triggered Life (formerly called Triggered) is a multi sensory, multimedia, post-traumatic story. How exactly does Sexual trauma cast a shadow over the wholeness of Black male selfhood? When the shared cultural values of Black and Brown communities demand that men suppress their vulnerabilities and meet with their psychology alone.

Triggered Life follows a day in the life of two such men, Ishmael and Keith. As these men relive their stories of abusive childhoods, they embark on a journey to define their own manhood and identity.
The "Triggered Life" experience is a 90-minute long tour de force followed by talkbacks facilitated by mental health clinicians.
PLEASE NOTE: Half of the performances in this run are reserved for Black and Brown audience members only. Please, purchase tickets to performances dedicated to the audience with which you identify.
Black and Brown Affinity Performances: March 19, 26, 28, 31 and April 2.
The link to access your designated performance of Triggered Life will be sent within three hours from the listed start time.
Buying tickets for 10 or more households? Enter Discount Code "GroupSale" at checkout to receive 20% off.
Buying tickets for 8 or Senior households? Enter Discount Code "SRGROUP" at checkout to receive 20% off! 
Questions? Contact Andrea or Carmen in our Box Office at 503-488-5822 or email boxoffice@portlandplayhouse.org.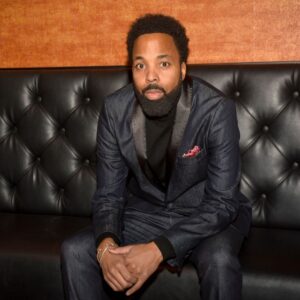 Keith Mascoll Actor/Producer/Writer (SAG-AFTRA,AEA)
Keith is a full-time actor, producer, Mental health advocate and Sneaker head. The founder of The Triggered Project, Co-Host of the Living a Triggered Life Podcast, and Co-founder of the Front Porch Arts Collective, his work centers around telling stories from the perspective of Black and Brown artists.
John Oluwole ADEkoje Writer/Director/Producer
John Oluwole ADEkoje is a graduate of Humboldt State University with a M.F.A. in dramatic writing and an M.A. in film production. He is national award winner of the Kennedy Center: ACTF-Lorraine Hansberry Playwriting Award as well as the 2006 Roxbury Film Festival Award for Emerging Local Filmmaker.
Roxann Mascoll, MSW LCSW Consultant/Producer
Roxann Mascoll is a Psychotherapist at Brandeis University with a MSW from Simmons College, and masters degree from the University of Massachusetts in Nonprofit Management. Roxann is the Co-Host of the Living a Triggered Life Podcast, and Former President of the Greater Boston Association of Black Social Workers.
Dr. Netricce Gaskin, Tech Director/Creative team
Dr Gaskins attended Georgia Tech where she received a PhD in Digital Media in 2014. Her model for 'techno-vernacular creativity' is an area of practice that investigates the characteristics of this production and its application in STEAM. She blogs for Art21, the producer of the Peabody award winning series, Art in the Twenty-First Century, and published in several journals and books. She was the directory of the STEAM Lab at Boston Arts Academy and lectures internationally. She is currently a program manager at the Fab Foundation.
Caroline Wilkes – Stage Manager
Caroline Wilkes is a recent graduate of Lewis & Clark College, where she received her BA in Theatre with a concentration in Design/Technical Theatre. She is currently a Stage Management Apprentice at Portland Playhouse.  Caroline has recently stage managed the Zoom series Shortcuts with PPH and Marie Antoinette by David Adjmi at LC. She is so grateful to be able to work on Triggered Life with these incredible artists!
Thyra Hartshorn – Lighting Designer
Thyra Hartshorn is a production manager, stage manager and technical director. Her training includes an MFA in production and design with a concentration in stage management from the University of California, Irvine, as well as almost two decades in ballet production. Thyra has toured and worked with companies around the world including San Francisco Ballet, American Ballet Theatre and the Bolshoi Ballet. Locally she's also worked with Oregon Ballet Theatre, Profile Theatre, White Bird, Portland Taiko and Northwest Dance Project. Thyra has taught high school stagecraft as well as college-level stage management locally.
Rory Breshears – Sound, Video
and Streaming Engineer
Molly Gardner – Master Carpenter
Jeff Ruggiero – Master Electrician
Veena Smith – BSW Intern
Erin DiIorio – Assistant Stage Manager
Erin DiIorio (she/her) is a director and theatre artist based in Brooklyn, NY, and is the current producing/directing apprentice at the Playhouse. Erin recently produced Shortcuts, the four-part series of Zoom plays recently debuted by the Apprentice Company. She received her BA in devised and collaborative theatre from Pace University and is a recent graduate of the William Esper Studio's two-year program. Other Portland ASM credits include Bath Night 3.

Sarah Patterson – Production Apprentice
Sarah is a designer, illustrator, and aspiring scenographer from Marietta, Georgia. She received a Bachelor of Science in Architectural Studies from the University of Illinois at Urbana-Champaign. Her love for storytelling drives her to explore myriad creative avenues; and her belief that anything can tell a story justifies her ever-growing "reference" photo collection on her phone. Sarah thoroughly enjoys problem solving and working with whatever is available (especially recycled materials). She is excited to be working with Portland Playhouse and pleased to be collaborating with people passionate about their craft. In her down time, Sarah delights in watching movies, sketching, and admiring old trees. Find more of her work on her website.
ASL Interpretation provided by Pam and Edwin Cancel
Projection design/Artwork for the show by John Oluwole ADEkoje
Show image by Dr. Nettrice Gaskins and John Oluwole ADEkoje
The Inner Monolgue and Sneaker Art Project uses art to guide young men in writing a personal monologue including their thoughts about manhood, mental health, being Black and Brown during the Black Lives Matter movement, and being resilient. Led by Teaching Artists and Trauma Survivor Keith Mascoll. Learn more about the program by clicking the image above.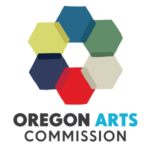 This project is supported by funds from the Oregon Arts Commission and the National Endowment for the Arts.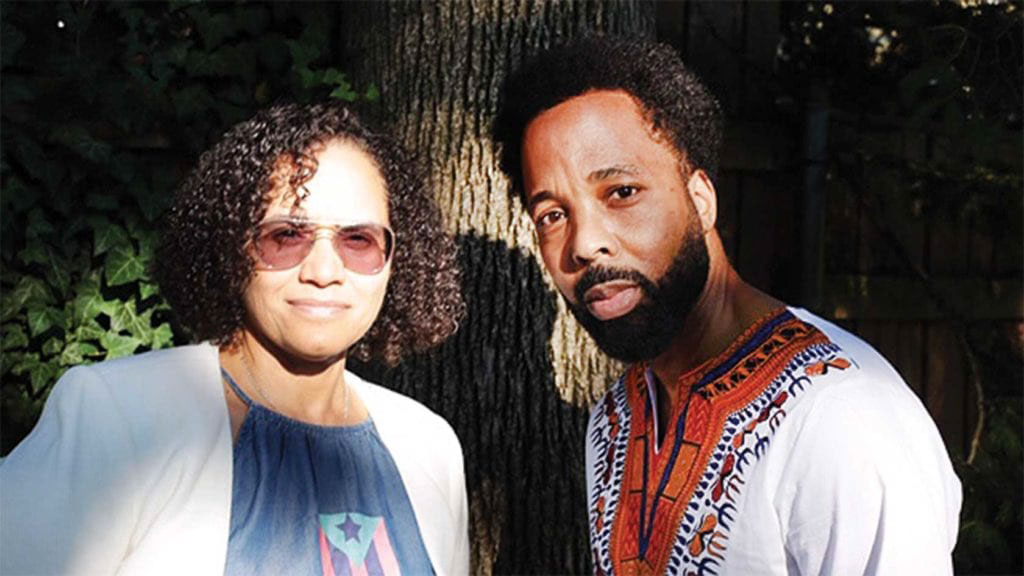 Living a Triggered Life: The Podcast
A Triggered Life creators Keith Mascoll SAG-AFTRA,AEA and Roxann Mascoll MSW LCSW  discuss their own trauma histories and talk Love, mental health, relationships, and family dynamics as they explore the impact on their long term marriage.
Interested in Getting Involved?
We are always looking for volunteers as well as apprentices, crew members and corporate partnerships.