Adapted from the book by Michael Cunningham and Craig Marberry
Directed and choreographed by Patdro Harris
Music Direction by Chika Ma'atunde
Wednesday – Friday, Mar 13 – 15: Preview performances. Tickets just $19!
Saturday, Mar 16: Opening Night – Tickets – $75. All Opening Night patrons are invited to the post-show reception with the cast, creative team and crew.
Wednesday, Mar 20: ASL Interpreted Performance – Tickets – $25. 
Portland Playhouse garnered much acclaim for its musicals with successes such as A Light in the Piazza, Bloody, Bloody Andrew Jackson, and most recently, Scarlet. Crowns brings the musical experience back to the Playhouse stage in a big way. A female driven cast tells the story of Yolanda, a young woman transplanted from Brooklyn to South Carolina following a family tragedy. There she meets a circle of women who share with her the history, the importance, the power of the hat.Crowns is a not-to-be-missed celebration of song, dance, cultural history—and glamorous headwear. 
Wanda/Oshun: Ithica Tell*
Jeanette/Yemaya: Julana Torres*
Velma/Oya: Shalanda Sims*
Yolonda/Ogun: Kelli Bee
Mother Shaw/Obatala: Marilyn Keller
Mabel/Shango: Kristin Robinson 
Man/Elegba: Andre Neal
Percussionist: Rob Smith
Keyboards/Conductor: Chika Kaba Ma'atunde
Understudy – Yolanda: Netty McKenzie+
Understudy – Man: DJ Curtis+
Playwright: Regina Taylor
Director/Choreographer: Patdro Harris
Music Director: Chika Kaba Ma'atunde
Stage Manager: David Levine*
Costume Designer: Wanda Walden
Scenic Designer: Dan Meeker
Lighting Designer: Dan Meeker
Sound Designer: Matt Wiens
Props Co-Designers: Sara Ludeman, Alex Meyer

Asst. Director: Reina Solunaya
Asst. Director: DJ Curtis
Asst Stage Manager: Rachel Lee Millena+
Master Electrician: Jeff Ruggiero
Sound Engineer: Rory Breshears
Scenic Artist: David Pritchard
Thank you to our Show Sponsors
The Sheri and Les Biller Family Foundation
Karen Fink
Carla Kelley & Andy Asher 
Our work is supported by Oregon Cultural Trust.
Thanks to the Regional Arts & Culture Council, including support from the City of Portland, Multnomah County and the Arts Education & Access Fund.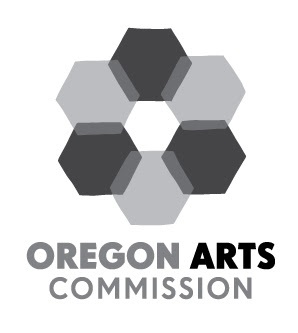 Portland Playhouse receives support from the Oregon Arts Commission, a state agency funded by the State of Oregon and the National Endowment for the Arts.
Interested in Getting Involved?
We are always looking for volunteers as well as apprentices, crew members and corporate partnerships.