Get ready for an unforgettable 16th Season at Portland Playhouse. Guaranteed to thrill, inspire, entertain, and awaken you to the wonder of theatre – this specially curated line up is one you don't want to miss. 
And, if you really want to make sure you don't miss it, you'll want to subscribe to Season 16 now. Good news – if you do that before May 30th you'll receive a 10% off the price of an Anytime Subscription.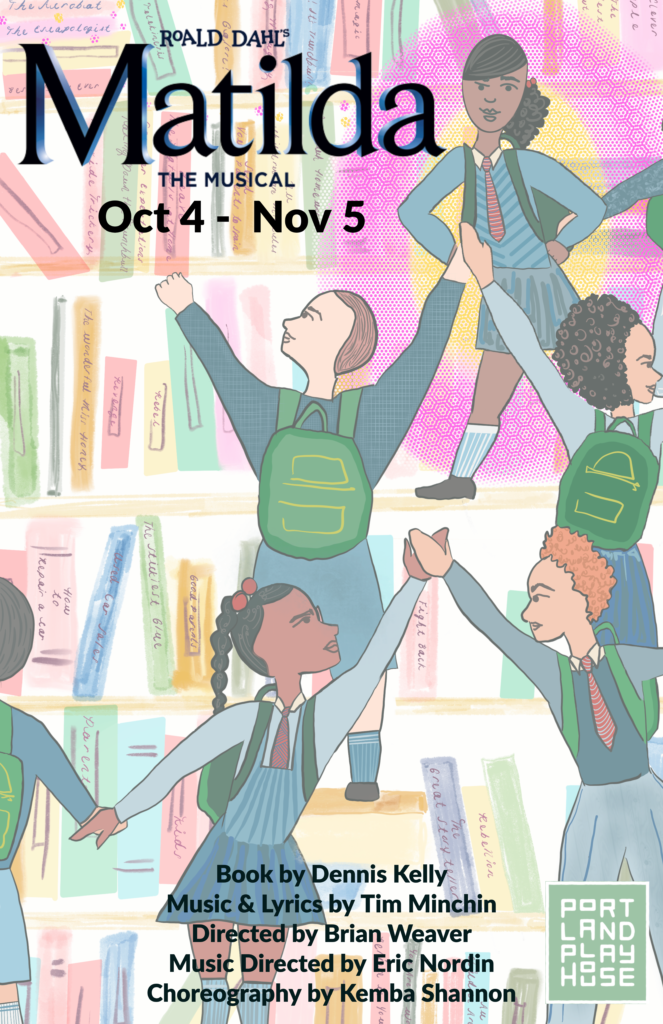 Roald Dahl's Matilda the Musical
October 4 – November 5, 2023
Book by Dennis Kelly Music & Lyrics by Tim Minchin Music Directed by Eric Nordin Choreography by Kemba Shannon
To Change the world, it takes a little genius
Are you ready for the tale of a pint-sized genius who's about to show the world what true brainpower can accomplish? 
Roald Dahl's Matilda the Musical is brought to life in a spectacular display of music, dance, and pure imagination.
Our heroine is a precocious young girl who's stuck with a family that doesn't appreciate her intellect or her love of books. But Matilda is no ordinary child – she's got a magical mind, and with the help of her kind-hearted teacher Miss Honey, she navigates the challenges of school, family, and a truly terrifying principal – Miss Trunchbull.
If you're looking for a show that'll make you laugh, cry, and cheer for the underdogs, Matilda is the perfect choice. It's a critically acclaimed  musical, full of heart, humor, and some seriously catchy tunes. 
Matilda the Musical is the multi-award winning musical from the Royal Shakespeare Company. With a book by Dennis Kelly and original songs by Tim Minchin, this show is the winner of over 100 international awards, including 24 for Best Musical. 
So what are you waiting for? Grab your tickets now and join Matilda on her epic journey to rewrite the rules and change the world. You won't regret it!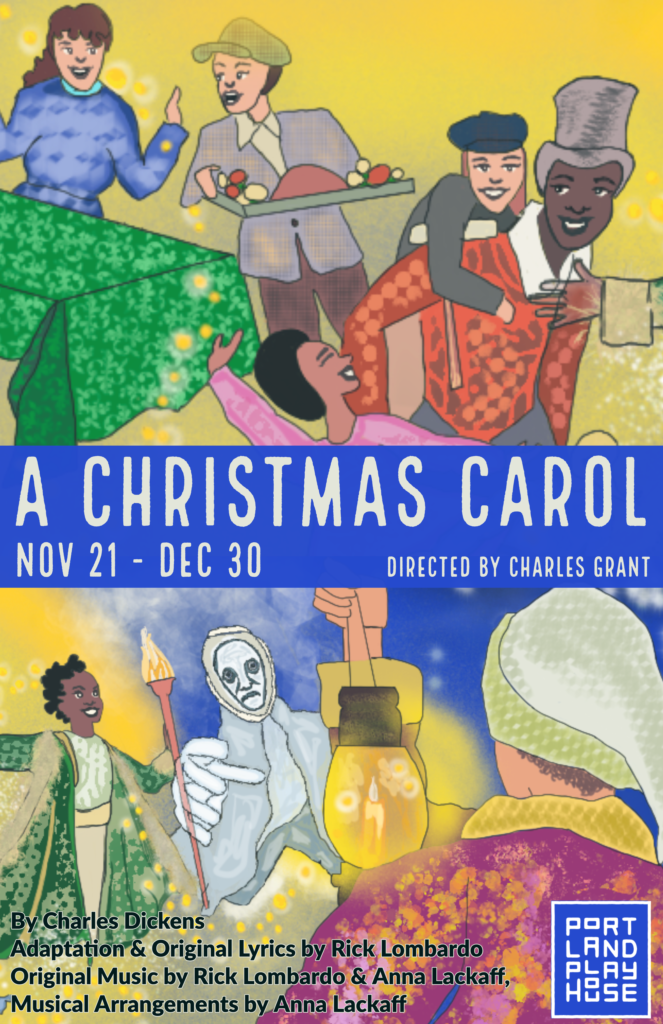 November 21 – December 30, 2023
By Charles Dickens Adaptation and Original Lyrics by Rick Lombardo Original Music by Anna Lackaff and Rick Lombardo Music Arrangements by Anna Lackaff
Directed by Charles Grant
Discover the true meaning of Christmas
This holiday season, step into a world of wonder and enchantment for A Christmas Carol – the timeless holiday classic that tells the story of Ebenezer Scrooge, a wealthy and miserly businessman who is visited by three ghosts on Christmas Eve.
The story begins with Scrooge, who is known for his cold heart and his lack of compassion for others. He is visited by the ghost of his former business partner, Jacob Marley, who warns him of the consequences of his selfish ways. Throughout the night, Scrooge is visited by the ghosts of Christmas Past, Present, and Future, who take him on a journey through time and space to show him the true meaning of Christmas.
As Scrooge experiences visions of his past, present, and future, he learns the importance of kindness, connection, and love. The play is full of heartwarming moments, magical special effects, and beautiful musical numbers that will leave audiences feeling uplifted and inspired.
Don't miss this chance to experience the wonder of A Christmas Carol at Portland Playhouse. This production is sure to be a highlight of the holiday season, and a perfect way to share the joy of Christmas with loved ones. Get your tickets today and join us for an unforgettable evening of magic, music, and merriment!
February 7 – March 17, 2024
Directed by Jackie Davis Starring Ramona Lisa Alexander
Stir your emotions & inspire yourself to action
Drawn from interviews with more than 250 students, parents, teachers and staff, Notes from the Field is a heart-wrenching tale of injustice, compassion, and hope that will leave you on the edge of your seat. 
This production lays the broken criminal justice system bare and explores the harrowing experiences of students, parents, and activists fighting for justice in a system that seems determined to fail them.
This powerful performance exposes a world where schools have become a pipeline to prisons, and young black men are being systematically pushed out of the education system and into the criminal justice system. But amidst the darkness, there are rays of light, as dedicated educators, activists, and community leaders fight tirelessly to make a difference in the lives of these vulnerable young people.
Through powerful monologues and breathtaking performances, Notes from the Field transports you into the lives of those who have been most affected, and leaves you with a sense of hope, and a belief that change is possible. 
So, if you're looking for a show that will challenge your assumptions, stir your emotions, and inspire you to action, then this production is for you. Don't miss out on a profoundly moving production – purchase your tickets today and be a part of the movement for justice and equity!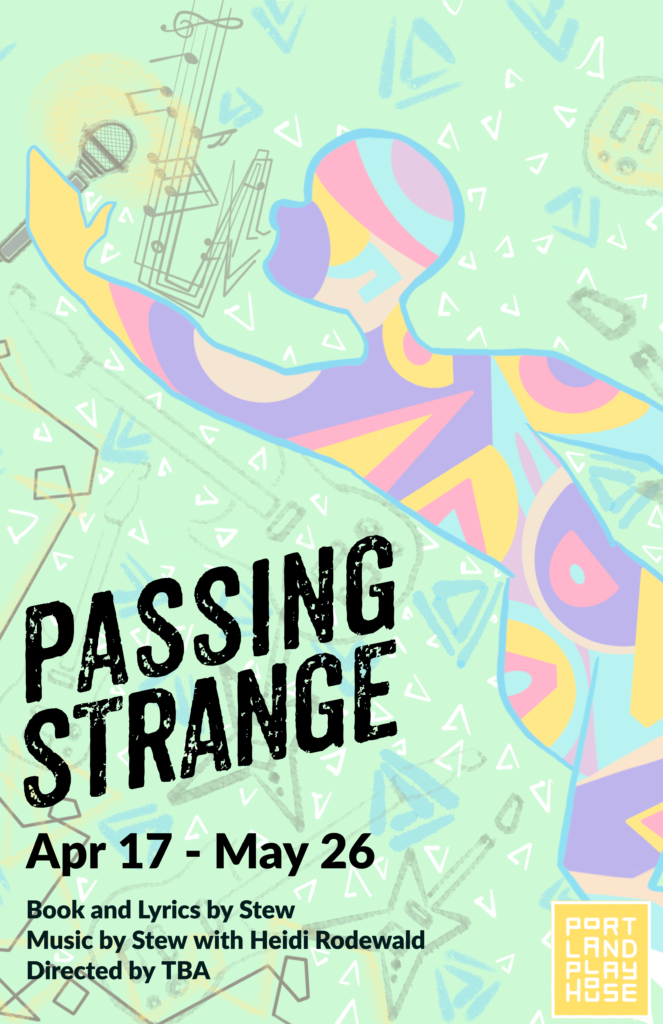 Book and Lyrics by Stew
Music by Stew with Heidi Rodewald
Directed by TBD
Music Directed by
Choreography by
Can the Meaning of Life be Found in Art? 
Get ready to embark on a thrilling musical journey with Passing Strange. This Tony Award-winning show, which inspired a Spike Lee movie, follows the life of a young Black musician, known as The Youth, as he searches for his artistic and personal identity. 
Set against the backdrop of the 1970s and 80s, the story takes you on a wild ride from the gospel churches of South Central LA to the punk rock clubs of Amsterdam and Berlin – sex, drugs and rock n  roll anyone?  Filled with electrifying rock music, soulful ballads, and powerful storytelling, Passing Strange is a triumph of live theater. 
You'll be swept up in The Youth's quest to find himself, and you'll experience the ups and downs of his relationships. With themes of race, art, and rebellion, this show is as relevant today as it was when it first premiered on Broadway.
Don't miss your chance to see this groundbreaking production live! Buy your tickets now and prepare to be moved and inspired by Passing Strange. You won't be disappointed!
Why Subscribe?
Subscribers save! Buying a three show subscription saves you 15% off each performance, plus subscribers receive discounts on additional ticket purchases, and other special offers throughout the season.
While our annual production of A Christmas Carol is not included in your subscription, subscribers do get special pre-sale access and 10% off tickets to this joyful holiday show. 
As always, subscribers can change their performance dates if needed with no exchange fees. 
Attention Early Birds! Buy before May 30 for 10% off an Anytime subscription.  
Anytime
For any performance in the run.
$149.99 (Buy before May 30 for 10% off )
Preview
The first three performances in the run ONLY.
$69
*Single ticket prices for 2023 – 2024: Previews: $27, Regular tickets: $56.95, Access Tickets: $25, Arts for All: $5, BIPOC Performances: Pay What You Wish, starting at $5. 
 Preview & Regular ticket purchases incur a $3 per ticket processing fee and may be subject to a $5 per ticket processing fee for each exchange.
Subscriptions include one ticket to Roald Dahl's Matilda the Musical, Notes from the Field & Passing Strange.  Subscriptions cannot be used for multiple tickets to the same production.

Why you should be a Subscriber?
15% savings off regular ticket prices*
Unlimited ticket free exchanges
You'll never pay a ticketing fee
Discounts on additional seat purchases
first access & discount code for A Christmas Carol
A personal relationship with our Box Office!