By Tina Packer – Founding Artistic Director of Shakespeare & Company
Featuring Tina Packer and Nigel Gore
OCTOBER 24 – NOVEMBER 10, 2019
One Night Only Performance Events, November 6-10
Women of Will: The Overview runs 2 hrs 20 mins including a 15 minute intermission
Each of the One Night Only events runs approximately 90 minutes with no intermission.
Part masterclass / part performance: Funny, fierce, deep and accessible, Women of Will is the bonus content to Shakespeare's plays that you have been searching for. Join master Shakespearean actor/dramaturg, Tina Packer, Founding Artistic Director of Shakespeare & Company, as she conjures up and deconstructs William Shakespeare's most famous female characters. Ace actor Nigel Gore plays the Romeo to Ms. Packer's Juliet, the Petruchio to her Kate.
Photos of Tina Packer and Nigel Gore by Brud Giles.
One Night Only Performance Events
Each "One Night Only" performance events takes a deep dive into the character development of Shakespeare's more well-known women.
Wednesday, November 6
Warrior Woman, from Violence to Negotiation  Comedy of Errors, Henry VI, Romeo and Juliet

Thursday, November 7
The Sexual Merges with the Spiritual; New Knowledge  Antony and Cleopatra, The Merchant of Venice, Taming of the Shrew, Troilus and Cressida

Friday, November 8
Living Underground or Dying to Tell the Truth
Twelfth Night, Hamlet, Julius Caesar, Othello, As You Like It, Measure for Measure
Saturday, November 9 
Chaos Is Come Again, the Lion Eats the Wolf  Titus Andronichus, Coriolanus, Macbeth, King Lear
Sunday, November 10
The Maiden Phoenix; The Daughter Redeems the Father Winter's Tale, Pericles, Henry VIII
**Regular Season Ticket holders may choose to see Women of Will or one of the one night only events as part of their package. Season tickets holders get 20% single ticket prices for additional purchased performances.
An excerpt from Tina Packer's Women of Will.  Watch through the first full minute to get the impact and breadth of her work.
"Smart and curiously seductive" says Bob Hicks from Oregon Artswatch
Tina Packer's feminine forces of Will – Marty Hughley breaks down her epic journey 

Together Packer and Gore's stage alchemy creates the Shakespeare experience that Ben Brantley of 

The New York Time

s calls, "Marvelous!" and Jennifer Farrar of 

Associated Press

 hails as "Boundless and irresistible!"

"Brilliant!Fearlessly impassioned acting that you'll remember for as long as you live." – The Wall Street Journal
Tina Packer* (actor/playwright) is the founding artistic director of Shakespeare & Company in Lenox, Massachusetts. She has directed most of Shakespeare's plays (some of them several times), acted in seven of them (never when directing) and taught the whole canon one way or another at over thirty colleges in the U.S., including Harvard, M.I.T. and NYU. At Columbia, she taught in the M.B.A. program for four years, resulting in the publication of her piece, Power Plays: Shakespeare's Lessons in Leadership and Management with Deming Professor John Whitney. For Scholastic, she wrote Tales from Shakespeare, a children's book and recipient of the Parent's Gold Medal Award. She began her career in England, having trained at the Royal Academy of Dramatic Art, where she won the Ronson Award for most Outstanding Actor. Following this, she became an associate artist of the Royal Shakespeare Company, performing at Stratford, in the West End, and on tour. She has worked at The Royal Court in London; Glasgow, Edinburgh, Leicester, Coventry and Hornchurch repertory companies. For BBC Television, she played Dora to Ian McKellen's David Copperfield, was a love interest for Patrick Troughton's Doctor Who (which she has never lived down), and also performed in several other TV plays and series. She came to the U.S. in 1974 when the Ford Foundation funded an eleven-month project for her to research the visceral roots of Elizabethan theater with five master teachers (Kristin Linklater, John Barton, B.H. Barry, John Broome, Trish Arnold), fifteen actors, and three managers. Out of these projects led by Tina throughout England and the US, her work has translated into the aesthetic and practical methods that Shakespeare and Company is based on, and still practices to this day. Tina then received two grants from the Ford Foundation to travel the world, looking at the relationship of mind, body, sacred texts, stand-up comedy, voice, and actor–audience relationship in her studies. The current company was founded in 1978 at Edith Wharton's derelict mansion in Lenox, far from the cities of New York and London. Tina has returned to acting from time to time, most notably as Edith Wharton and a two-year stretch as Shirley Valentine, playing in Lenox, Boston and Louisville, and Lettice in Lettice and Lovage. For the Boston Shakespeare Company, she directed a season of twelve Irish plays, including the U.S. premiere of Observe the Sons of Ulster Marching towards the Somme. She has received the state of Massachusetts's highest honor, The Commonwealth Award, and has six honorary degrees (which gives her great pleasure as she never went to regular college). During the mid-90's, Tina conceived the idea for Women of Will, and subsequently received grants from the Guggenheim and Bunting fellowships to fund the project. This collaboration resulted in its first incarnation, at that time. In 2009, desperate to get back to WoW, Tina gave up the artistic directorship—though Shakespeare & Company remains her creative home and passion. She began work, first with Nigel Gore and then joined by Eric Tucker, to bring Women of Will to its present form of one Overview and five separate performances. This is Tina's seventh creative collaboration with Nigel (including playing George and Martha in Who's Afraid of Virginia Woolf?) and she would like to acknowledge the power of their work together over the past six years. The book of Women of Will was published by Knopf.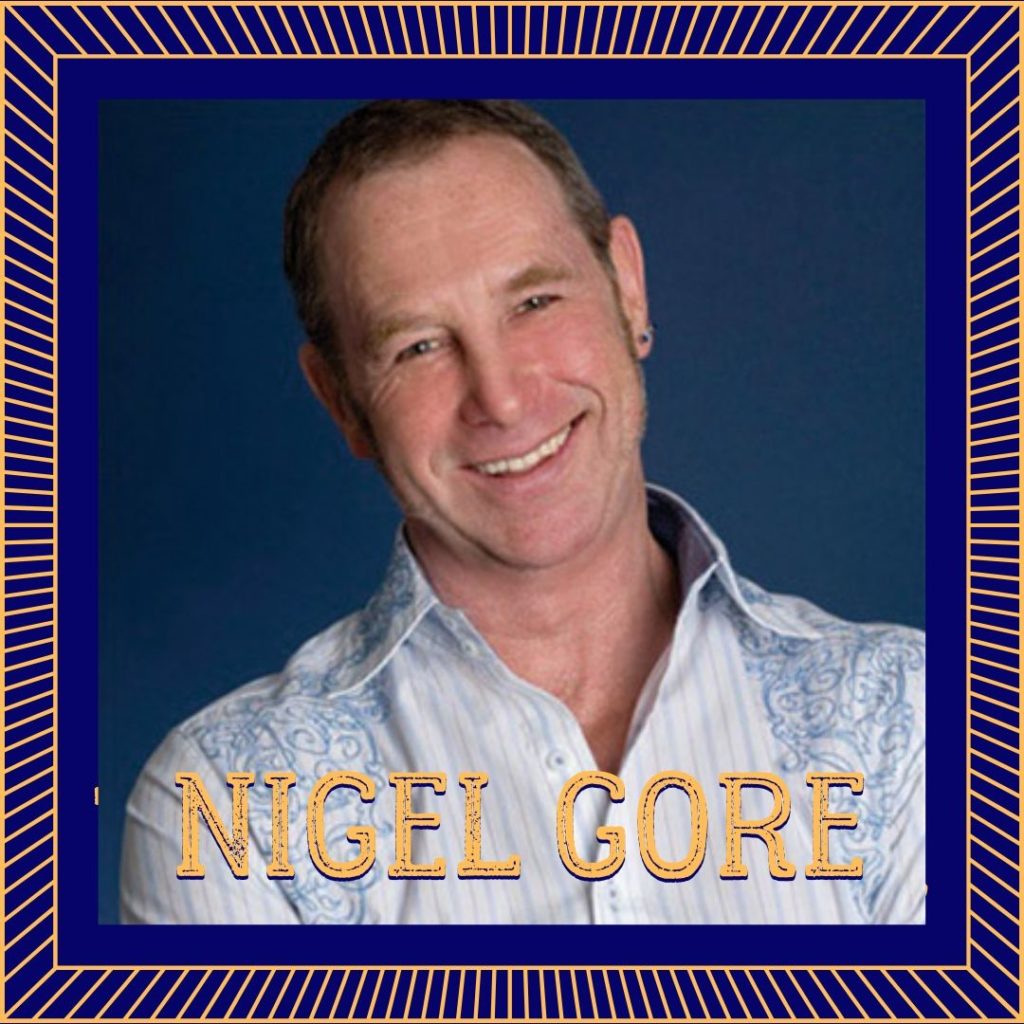 Nigel Gore* (actor) played the title role in Macbeth and Bottom in A Midsummer Night's Dream at the Colorado Shakespeare Festival. He received the Eliot Norton Award for Outstanding Actor for his portrayal of George in Who's Afraid of Virginia Woolf? at the Publick Theatre in Boston. Recent work includes Richard in Richard III at Colorado Shakespeare Festival; Squeers, Hawke in Nicholas Nickleby at Lyric Stage Boston (Eliot Norton Outstanding actor nomination); Claudius in Hamlet at Prague Shakespeare Festival; Volumnia in Coriolanus at the Mercury Theatre, Colchester, UK; Mark Antony in Antony and Cleopatra; Sir Toby Belch in Twelfth Night (both with Shakespeare & Co.). Film: Last Knights. TV: seasons two and three of Brotherhood on Showtime. Mr. Gore is a founding member of AUREA, a performance ensemble whose mission is to explore the relationship between music and the spoken word. He is a published poet.
Portland Playhouse Production
David Levine* – Stage Manager
Daniel Meeker – Lighting Design
Riley Lozano – Assistant Stage Manager
Original Production
Eric Tucker – Director
Valérie Thérèse Bart – Costume and Scenic Designer
Daniel Kluger – Sound Designer
Women of Will was developed during a 15-year period while Tina Packer was Artistic Director at Shakespeare & Company in Lenox, Massachusetts. The Overview was performed at Shakespeare & Company in the summer of 2010 and The Complete Journey in the summer of 2011.
For more information on the original production visit Women of Will.
Interested in Getting Involved?
We are always looking for volunteers as well as apprentices, crew members and corporate partnerships.